As a neighbourhood we understand the importance of supporting our own wellbeing and the wellbeing of those around us. Together we reflected on the different ways we support our wellbeing in the Year 3 neighbourhood.
Independent reading

When we read it focuses our mind on the book which calms us down. You feel like you're in the book and really engaged in it. Books also help us by supporting our learning (vocabulary) (Arabella).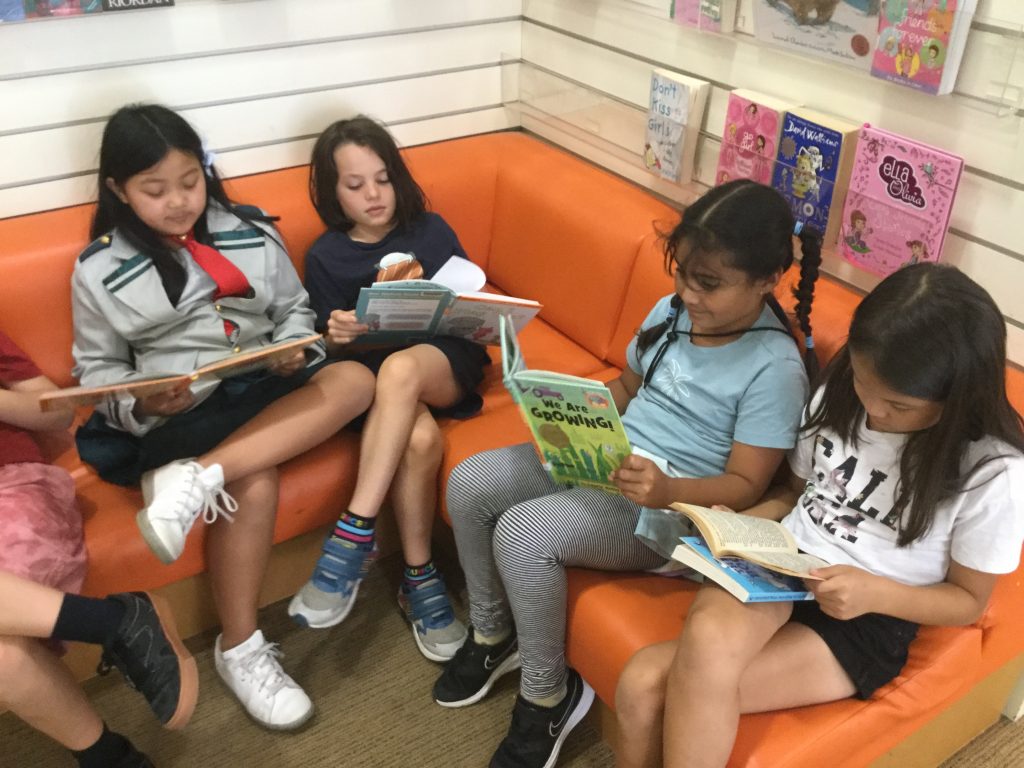 Observational drawing

It allows us to be outside in the fresh air. I find that it helps me calm down. When I listen to the birds it's calming. Observational drawing helps me calm down as when I'm sitting and concentrating it helps me feel less stressed (Tucker).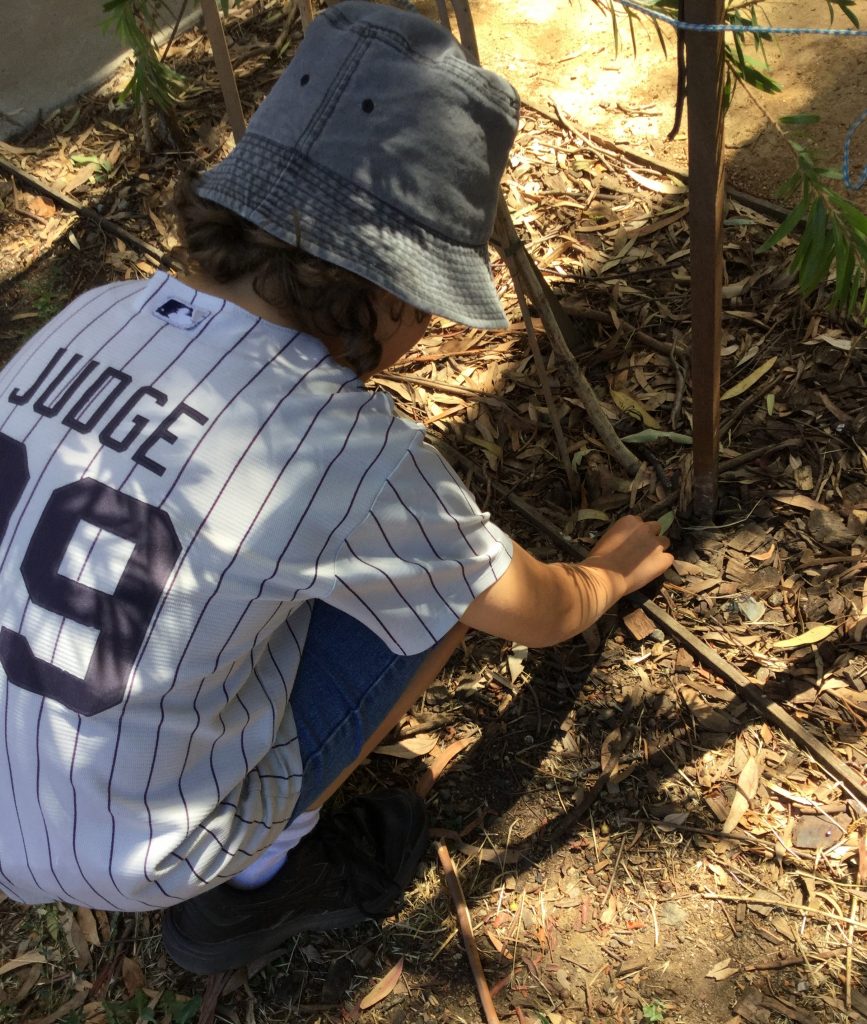 Morning sprints

Being outside helps me feel more calm (Ebony). It helps me focus on my learning. It stops me from being restless which helps my concentration (River). It helps us get ready for the morning and helps us feel more awake. 

Smiling minds and mindfulness

We put a lot of energy into recess and during Smiling Minds it helps us gain back our energy (Felix). Mindfulness helps us if we have done something wrong, it helps us reflect on our actions (Decca). We can then apologise after mindfulness if we need to. Mindfulness helps us calm down as it gives us time to rest and reflect on the day and gets us ready for the next session (Arabella). After mindfulness we feel happier and calmer. 

Provocation time

When I finish a piece of work that I have been working on it makes me feel soooo good (Koen). It makes us happy because we have choice (Decca). We can do things the way we want to. We feel like we have more freedom to learn what I want to and the freedom to express our learning how we want to (Arabella). We feel more challenged and feel successful. This makes us feel joyful (Makaila). I get the sensation that I have learnt something new (Tucker).

Reflecting in our diaries

If I don't feel right I can write it down and I can talk to someone about it. If I've done something wrong or something good I can reflect on it (Thomas).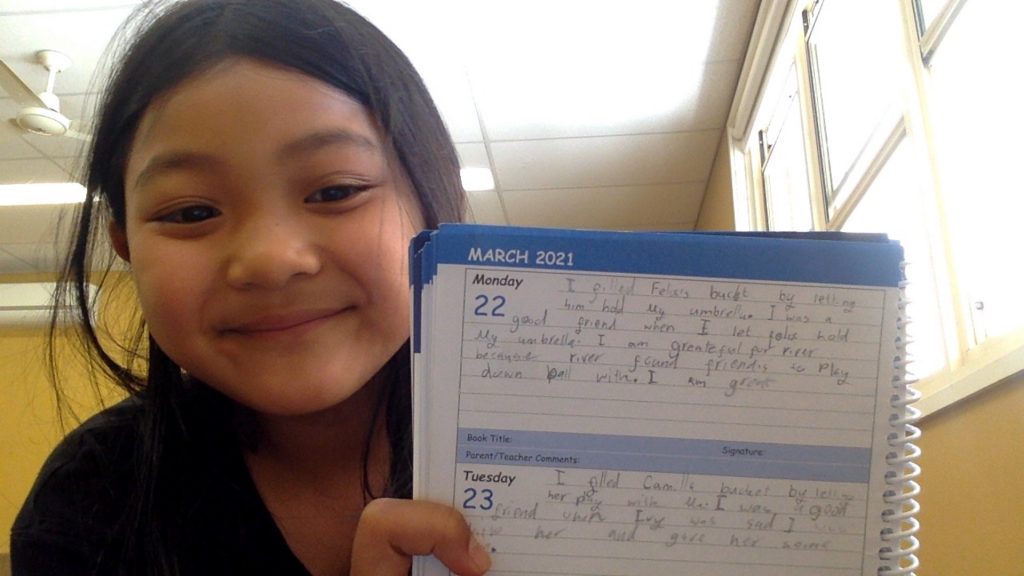 Time outside

Usually when we're eating lunch they're might be wasps and bees but even so it feels good to be outside even if it's cold and windy. It's a calm, soothing feeling (Isaiah). Sometimes it's calming outside. You can just sit on a bench and chat with your friends while you sit in the sun (Gabriel). To me, when you're outside it calms you. Sometimes inside you get a bit restless and when you're outside you feel calm again because you can burn out your energy (Owen). 
Kindness to others

If we're kind to somebody else it makes you feel happy inside that you've done something good for somebody else (Zoe). When you fill someone's bucket you feel good (Miles). When I'm feeling upset my friends help me feel better by sitting with me and talking with me (Ivy Belle). When I do something kind to someone else, it doesn't just make the other person feel better but I get rewarded by feeling like I've done something kind (Tucker). 

Working together

When we work together sometimes you get more ideas and it's more fun (Wilco). Working together means for example if you're writing a story together you can both make the story and get more ideas (Eve). Working together means that you can share your ideas with your friends so everyone's ideas are in the project (Evie H). This helps our wellbeing because when you're with your friends it feels like you can talk to them about things. When I collaborate with someone it makes me feel and the other person also (Jack K).

Sharing/celebrating our learning

It makes us feel good when we've done something we feel proud of because not only you feel proud but you know other people feel proud of you (Jack B). When you share it with everybody it makes you feel proud and really good that you've shared it (Thomas).
Sincerely,
The Year 3 neighbourhood.