As we continue our Inquiry into Our Place in the World, students have been researching the history of Harmony Day and its importance. They explored their emotional connection to the idea of harmony by writing poetry to express what it means to them. Some of these poems are shared at the end of this post.
As a neighbourhood, we crafted the following shared statement to accompany the poster we created:
Our Harmony Day poster represents us together as a community. It shows us as a neighbourhood within our school community. If we are kind to each other and respect each other, we hope it will spread to the whole school, the whole country and the whole world.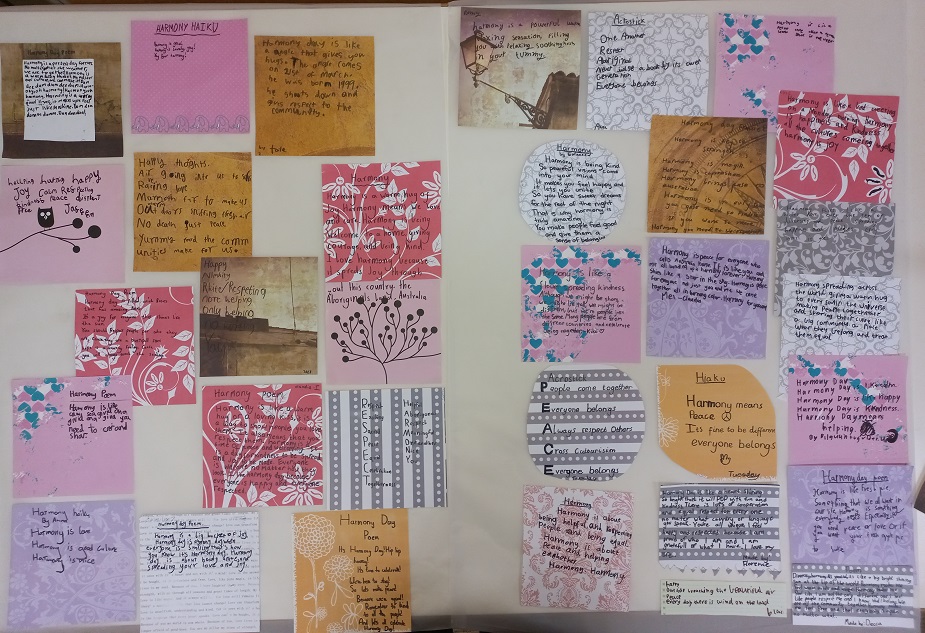 Happy
Outside breathing the beautiful air
Peace
Every day there is wind on the land.
– Blai

Diversity, harmony, all special,
It's like a big bright shining sun at the tip of the world.
Harmony makes me feel warm inside and unique.
Harmony makes me feel like I am not the only different one.
I feel like people respect me and I know that I belong.
We are all one community together.
Harmony makes me feel free
And that everyone is equal
No matter what.
– Decca
Harmony is the birds chirping
and the sun shining,
the water flowing peacefully.
Harmony is the trees swaying.
Harmony is flying.
Harmony is respect,
respect that everyone deserves.
– Seb