Visual Art – Exploring Colour
Over the past few weeks we have explored Sonia Delaunay's work and examined her interest in shape and colour. We have explored primary colours, secondary colours and complementary colours through the mediums of painting and collage. We have understood the relationships between colours and how all colours have an effect on those around them. This is simultaneous contrast, something Sonia Delaunay was very interested in. This week, at home, students furthered their explorations and understandings of colour and colour relationships by searching in their home for coloured objects that could be used to create an object colour wheel.
Last week we revisited our knowledge of the colour wheel by gathering a range of objects around the home to make our own unique colour wheel! The results were inventive and imaginative!
This week, our interest was in the very special chair paintings that David Hockney painted! Often his chair paintings have the subject of a portrait in them, but at other times they are the sole subject. He once said: "I've always loved chairs. They have arms and legs, like people."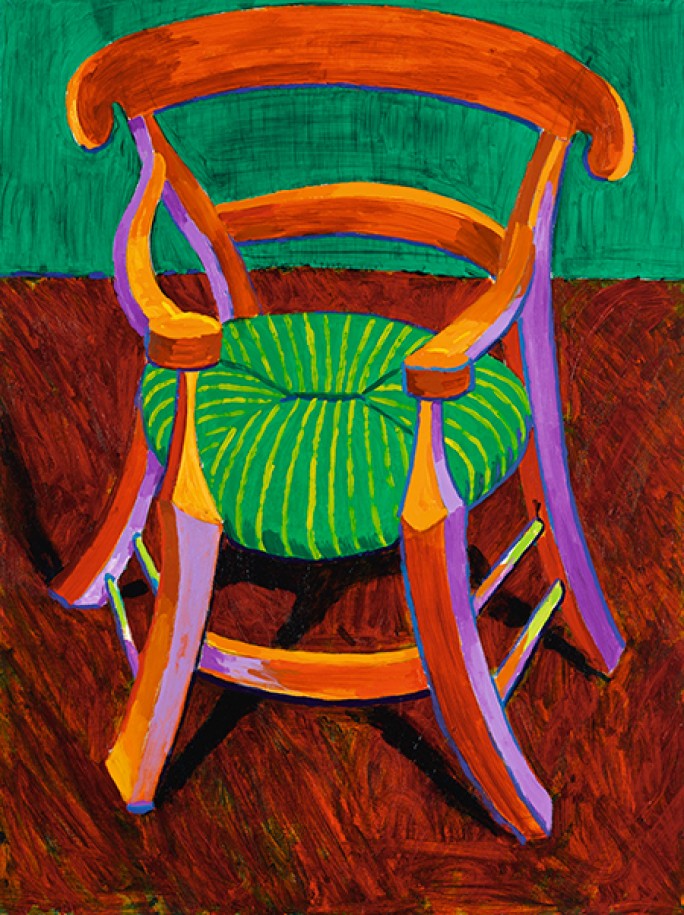 David Hockney is an English painter. He uses very bright colours and paints many things including landscapes, interiors, people and even did a lovely series of paintings of his pet dog! This week students examined the way David Hockney uses colour in his paintings. He likes to use complementary colours, and uses them in very clever ways. It is a bit like a puzzle working out how he uses the opposite colours on the colour wheel.
Students looked around their home for a special chair that they felt they had a connection with.
They focussed on the drawing of their chosen chair and applied colour using paint, felt tip or coloured pencils. Some used a favourite tool of David Hockney, the IPad!