It didn't come from instructions, it came from my imagination. Matilda
Complexity or Simplicity in Creativity
Over the term break, whilst looking through the Prep Creativity documentation, a recorded conversation and a piece of artwork, created from an online provocation, continually drew our attention.These insights into children's thinking ignited ideas of exploring creativity through complexity and simplicity.
Albie- I think creativity is when, like, you make a bird's nest that is, like, complicated.
Leo- I know what complicated means. It is something that is hard.
Leo- The bird's nest took a long time to make.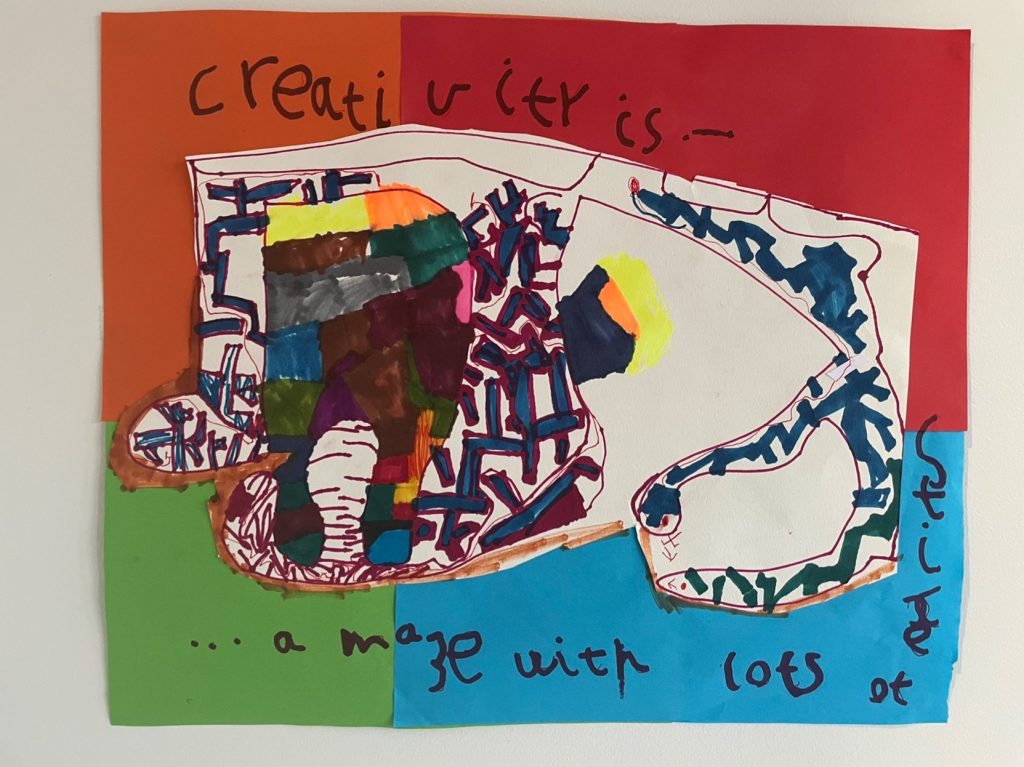 We began to wonder about the connections between these concepts and formed some questions to relaunch inquiry.
What does 'complex' mean? And what do our children understand about this word and idea?
What is the difference between simple and complex?
Is creativity complex or simple? Could it be both?
Has being in remote learning made us more creative or less creative? Or, has the complexity of remote learning led to simplifying creativity?
We began week 1 of Term 4 with renewed vigour and a desire to investigate these ideas and questions collegially and as a Prep community, with ever present thoughts of a pending return to school and our physical neighbourhood.
We created provocations to engage children in these ideas,also documenting their current thinking about them. In our daily morning meetings, we invited children to share their thoughts, beginning with asking, "What does complex or complexity mean to them?


Complex means something is confusing. Leo K and Jaya
It means something is switched around. Charlie
Complex means there are two or more things controlling machines.    Charlie
Complex is when you see inside something and see how it works. Jack
It means difficult. Albie
Complicated. Fabius
It means it's not simple. Andy
The explorations and thinking in the Prep community's homes around complexity and simplicity have been enlightening. We are beginning to create a collective understanding of complexity and simplicity and its impact on creativity.
Dad- Ok ,Jesse, show me your simple building.
Jesse- That one.
Dad- Why is it simple?
Jesse- Because there's less pieces and it's easier.
Dad- Ok, which one is the complex building?
Jesse- That one.
Dad- And why was it so complex?
Jesse- Because it was harder and it had more pieces.
Matilda- I thought this was complex because it's complicated.
Mum- Why is it complicated?
Matilda- Because it didn't come from instructions, it came from my imagination.
Mum- Is it simple or complex?
Chiara- Complex.
Mum- Why?
Chiara- Because it was very hard and I added lots of these. (gum nuts)
Mum- And it took you a while. 
Finnley- This was complicated.
Mum- Why?
Finnley- Because it was very hard to make.
Zion- It means complicated, it will mean hard, it will mean difficult.
Dad- And if something is complex will it take a long time or is it quickly to do it?
Zion- Take you a long time!
Gemma- This one is simple because it only has one level.
Mum- Why is the Rubik's cube more complex?
Gemma- Because when you fix one side, you got more sides. I counted six. When you fix one you mess up one…..and it's really hard to solve.
Mum- When you fix one side it affects the other sides,  that's what makes it complicated. It's our family challenge!
Mum- What makes it simple?
Aaran- It doesn't look nice, it doesn't have any walls.
Mum- And what's your complex structure?
Aaran- A house.
Mum- What makes it complex?
Aaran- It has walls, windows, a garden, and a chimney and also it doesn't flop.
Mum- So it's more stable, what makes it stable?
Aaran- It's got a brace here.
Charlie- This is a simple machine.
Mum- What makes it a simple machine?
Charlie- Two bits that move.
Mum- What would a complex machine have? Would it have fewer or more pieces?
Over the last weeks of remote learning, children have explored complexity and simplicity through a variety of provocations, materials and accessing different mediums or languages to express their burgeoning understanding of these concepts. We wonder how Deb might provoke these ideas further through the language of music?
Naturally, all of these amazing reflections and observations have led to another question. Is simplicity as important as complexity?
This one is more complex because it has details on it and the simple one is boring! Araan
Complex is more and simple is less. Jesse
I think it (creativity) is complex because it can be a bit hard to be creative. Albie
Complex can be more colourful. Andy
SImple is something that you can make easily. Complex is something that is harder to make and more complicated Elliot and George
Complex is messy. Jack
We will now begin to look at ways to incorporate these important understandings of complexity into our planned projects. The projects will share our inquiries into Creativity with the whole school community.