Bamboo, Ukuleles, Drums and so much more! Music in Weeks 3 & 4, Term 2.

Bamboo, Ukuleles, News jingles, Italian lullabies, clapping games, rounds, and on the horizon… Kofi Kunkpe is returning for more African Drumming… YAY! This week, let's catch up with what has been happening across the school in Music.
Mother's Day Assembly: What a perfect morning! Our outdoor assemblies really do have a touch of magic about them. It was wonderful to see so many family members and friends attending to share in our celebration of our Mothers and Carers. Congratulations to everyone for heart warming expressions of appreciation through poetry, art work and singing. Thank you to the Preps for their lovely singing of the Italian Lullaby 'Fa La Nanna' which many of us remember from our time in Lock Down last year: I love it when the whole school joins in too👏🏼. The Sicilian Lullaby 'Er a la vo' is a new one for our school community. The Yr 4s did a great job to learn this, and performed it beautifully with their own trio of instrumentalists: Ziyu and Claudia playing the violin and Tristan playing the guitar. To hear the children's voices was a moving treat made all the more special with the birds singing in the trees. Thanks to the Yr 5/6 students and Richard for the tech set up and bump down, and to Kulwinder for ensuring that the oval and surrounds looked superb.
Bamboo Sculpture: It has been a pleasure to restore the Bamboo Sculpture under the elm tree in the west school yard. Our wonderful Yr 6 students designed and built this sculpture in 2018, and as it is made of natural materials, we are delighted that it is still survives to inspire imaginative play. The restoration is almost finished: we just need to add the bright orange paint and replace a couple of the bamboo faces. There is another exciting development planned for this area so please watch this space.
Preps: I have been enjoying 2 music sessions each week with the Prep Neighbourhood. During Projects and Provocations we have been learning clapping and body rhythm games to build our co-ordination and team skills. The singing/movement game 'Mrs Macaroni' remains a favourite, and really shows how much the Preps have grown in their group music activities. During singing time, the students have learnt the Lullaby 'Fa la nanna' which they performed for the Mother's and Carer's Day Assembly. They have also journeyed into singing in French with Frére Jacques, and are now singing songs about the days of the week.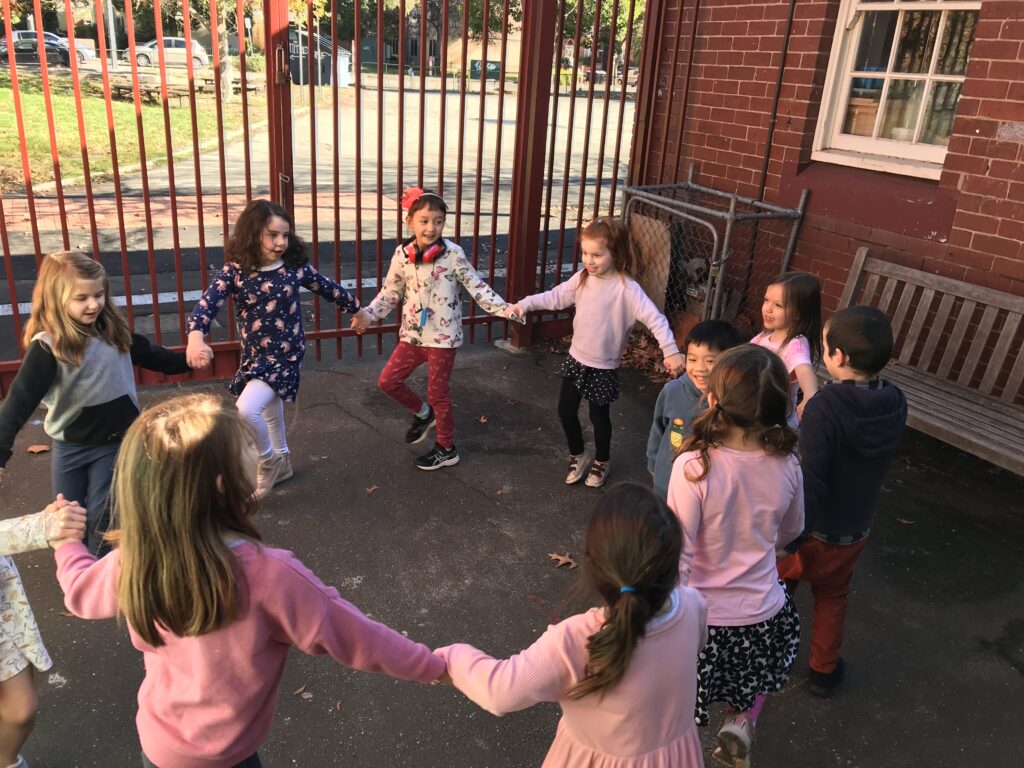 Yr 1/2 Ngh1: For the latest, up-to-date information, tune into the Yr 1/2 Ngh1 News Service, 'brought to you by kids for our community'. The students have created their own news jingle and introductory script, and we look forward to recording it next week. We are also working up a body percussion and rhyming words game: if it's a huge success, you'll hear about it on the Yr 1/2 News Service.
Yr 1/2 Ngh2: If you visit the Yr 1/2 Ngh 2 you will be immersed in an Italian experience. There is a real celebration of all things Italian and of the learning the students have enjoyed with Anna-Maria over the years. In music, we are writing our own Italian song about one of our favourite subjects: food! What better tune to borrow, from a culture rich in song, than 'Funiculí Funiculá'. We are expanding our vocabulary and testing our grammar: 'Mangia, mangia in a gondola. Floating felice in Venezia!' … and thank you to Anna-Maria for your support.
Yr 3: In the Yr 3 Neighbourhood we are revisiting one of my favourite songs introduced to me by Tomo Harada: the walking song 'Aruko, Aruko' from Totoro. Yes, we are singing in Japanese and are lucky to be tutored by Max 3B in our pronunciation. We have started to learn the song 'Dream Baby, Dream' which has been re-presented by the Indigenous choir Spinifex Gum as a protest song to raise awareness about the Uluru Statement of the Heart. This is a song that the Yr 3/4 choir will lead, and that the whole school will sing for our Reconciliation Assembly on June 4th.
Yr 4: The traditional lullaby from Sicily 'Er a la vo' is centuries old, and I was proud of how our Yr 4 Neighbourhood embraced the song and learnt it so beautifully for the Mother's and Carer's Day Assembly. It was also a special addition to the song that students of Yr 4: Ziyu, Claudia and Tristan, formed a trio of violins and guitar to accompany the lullaby. The trio looks forward to recording their instrumental version of the lullaby as music for the school bell. Also, well done to the Claudia and Olivia for your recording of the round 'Frére Jacque' with your flute teacher Kylie which is now playing as the school bell music.
Yr 5/6 Uke Club Intensives: I am soooooo impressed with all the Yr 5/6s as they have really responded fabulously to learning the ukulele at a cracking pace: uke sessions are more like Uke Club Boot Camp. My aim was to progress quickly so that the students could join in with a Uke play-along song and feel an early 'zing' of satisfaction. In a short half hour session the students learnt their first 4 chords: the open string chord A7, C major, A minor and F major, and enjoyed a strum-along to Imagine Dragons 'Thunder'. This is really great learning, and as the students master a few more chord positions, they will be able to chose the songs they would like to play, armed with the confidence that they know how to learn any number of chords to add to their 'chord bank'. What is particularly fantastic is, that for many of the students, this is the first time that they have learnt an instrument. They are getting the sense that it's a great feeling to be making music and sharing that experience with their friends. Further more, the students will have a working knowledge of how an instrument can enrich and facilitate their own musical creativity. Bravo Yr 5/6s.
Kofi Kunkpe returns: Fasten your seat belts: the Master Drummer from West Ghana is back… by popular demand. With the lock downs last year we were so disappointed to miss the Drumming Workshops which we had booked with Kofi, and the Yr 6s in particular were sad that they may never get another chance to drum with him again. We are thrilled that Kofi is available, and excited, to join us for a short drumming season in Weeks 8, 9 and 10 this Term. This will be the third time Kofi has has conducted drumming workshops at PHPS. Each time, the students quickly recapture the skills previously learnt, and power on further into more complex drumming patterns. This year Kofi will work with Appiah, a dancer for West Ghana, and we will enjoy reconnecting with songs and games from Kofi's home country too. I would like to add a big thank you to Julie, Amanda and Jacquee for their help in getting the Drumming program up and running 🙏🏼… and remember, his name is 'Korfi' not coffee!!! 😃
Instrumental Music: Our wonderful IM program continues. Every school day is special, but on Fridays there is music in the air that lifts our spirits, not to mention the drooling essence of garlic bread from the OSHC kitchen at 3:30pm which really heralds in the week end. Our IM students are busy preparing for the IM concert and assembly in a few weeks. Also, have you noticed the sounds of instruments being playing during lunch time? The IM students are forming their own music groups, practising together and sharing their learning. It is a real joy to see and hear. Bravo!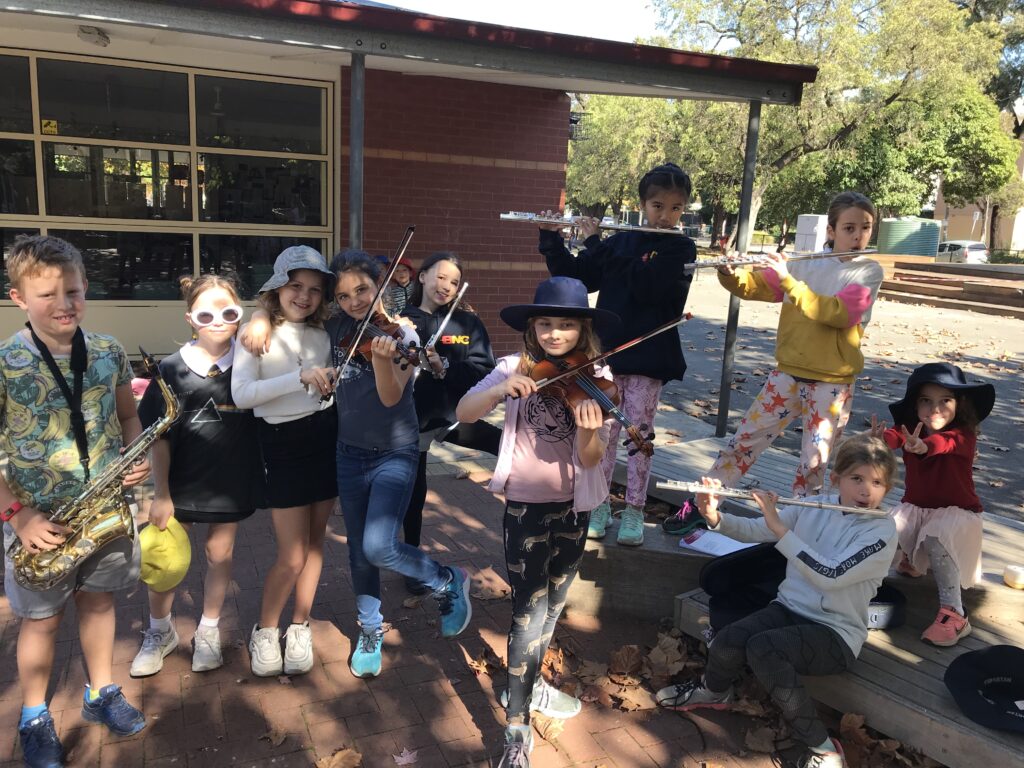 Learning music gives you wings for life, and being a part of this experience brings great joy.
Thanks everyone, and have an enjoyable couple of weeks
Cheerio, Deb