Wellbeing Festival Residencies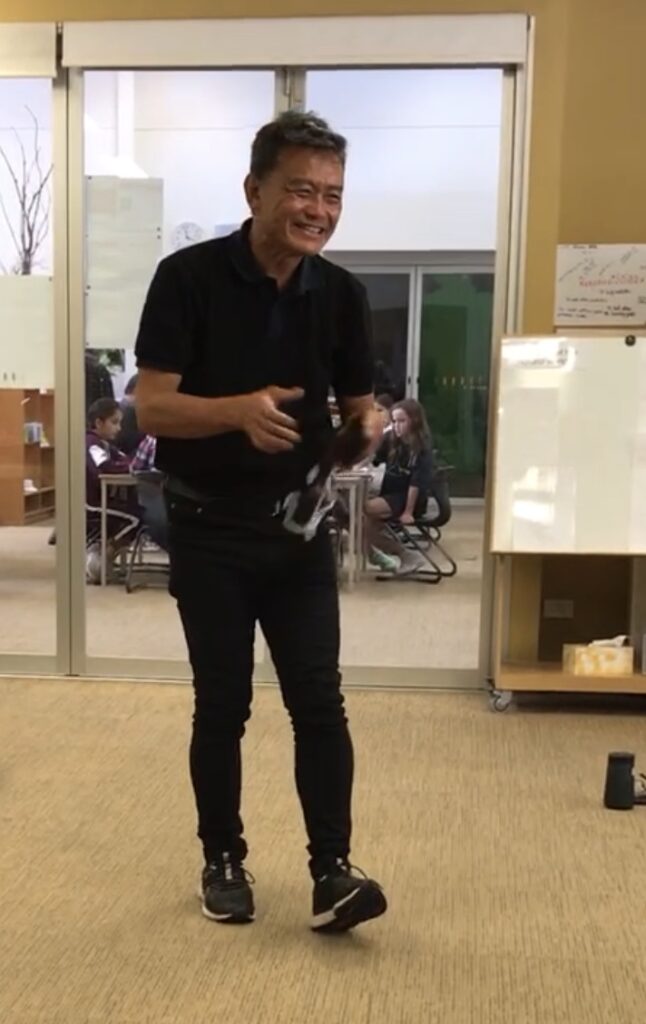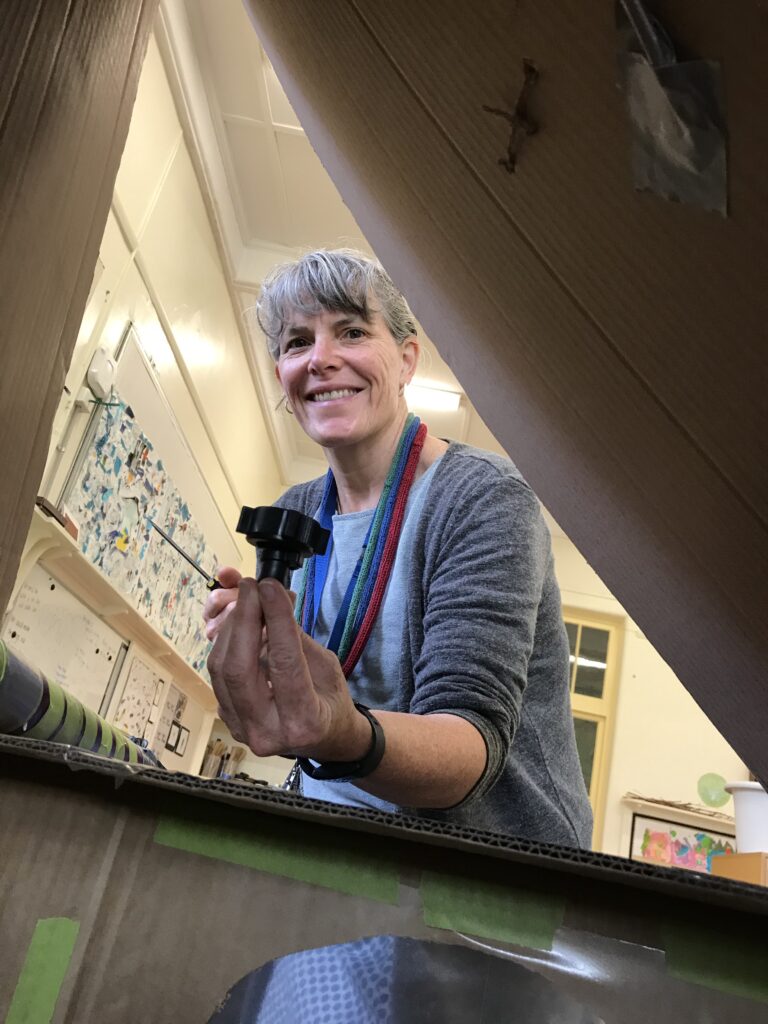 Tony Yap and Emily Hayes inspired joyous creativity as students recycled materials to make masks, body armour and a Sound Machine. We have been delighted to welcome our Dance and Music Resident Artists back to school to complete their Residencies for the Wellbeing Festival. It's been a super creative time for us as both Residencies culminated in 'hands on' Visual Art activities. With Emily, her sound worlds led to the making of Sound Sculptures: a Sound Machine for hearing the Corona Virus, and Body Armour to create Corona Virus sounds. Tony's Dance and Movement workshops examined how masks can conceal identity, protect from disease, and inspire new ways of being and moving. With mask wearing now an accepted necessity, students were invited to create their own mask and reflect on how the wearing of the mask made them feel.
Emily Hayes.
A Machine for hearing the sound of the Corona Virus. Can you imagine what it would be like? Our super Year 1s had a fabulous time building this machine with Emily Hayes when she returned to complete her Wellbeing Festival residency. In no time at all, the Yr 1s refreshed last year's Prep design ideas, and agreed on essential machine components. The machine needed ears to hear the virus, microphones, speakers, solar panels, a 'sucker' to suck up the virus, and 'on' and 'off' buttons. It had to be big enough so that people could get in side it, and tall enough to be impressive, and… it had to have a secret door… because (just quietly) the sound machine is also a cubby!
The Sound Machine construction was the culmination of so much creative thinking around the concept of 'Can we hear the Corona Virus?' The students contemplated how the wonders of technology help us to understand our word: after all, 200 years ago it would never have been imagined that we could see a virus, and maybe our ears just aren't powerful enough… yet! Maybe, the virus has a language and we could teach it to be a good virus. The students continuously recorded their thoughts in annotated diagrams, and found numerous ways to create the different virus sounds of their imaginations.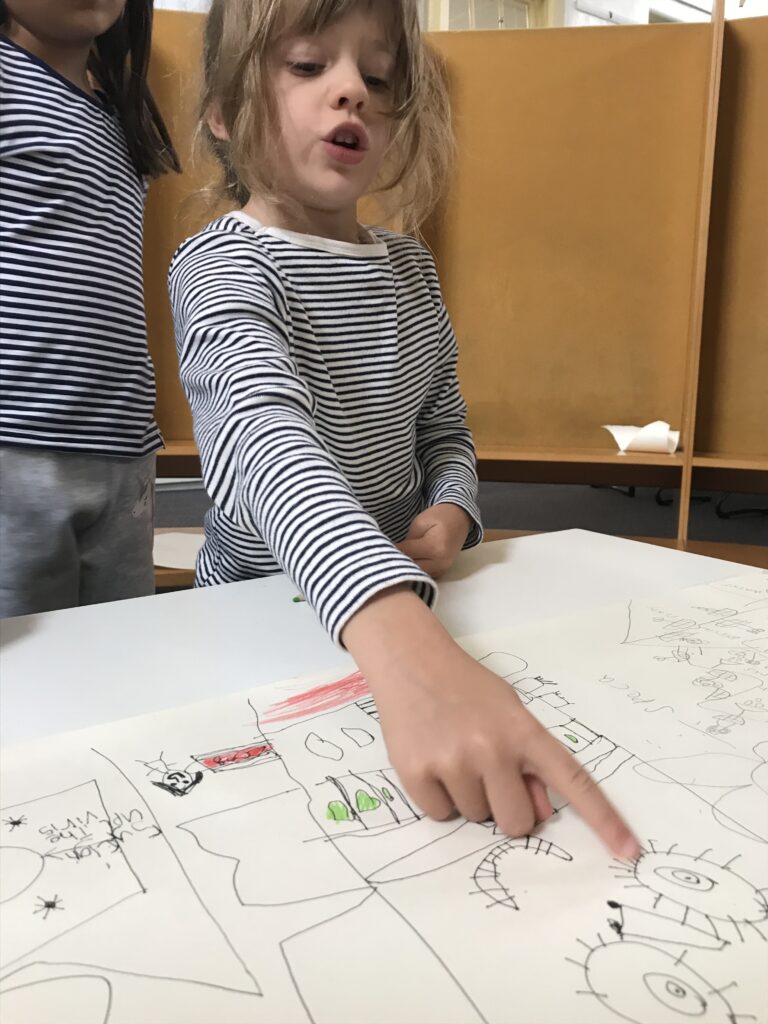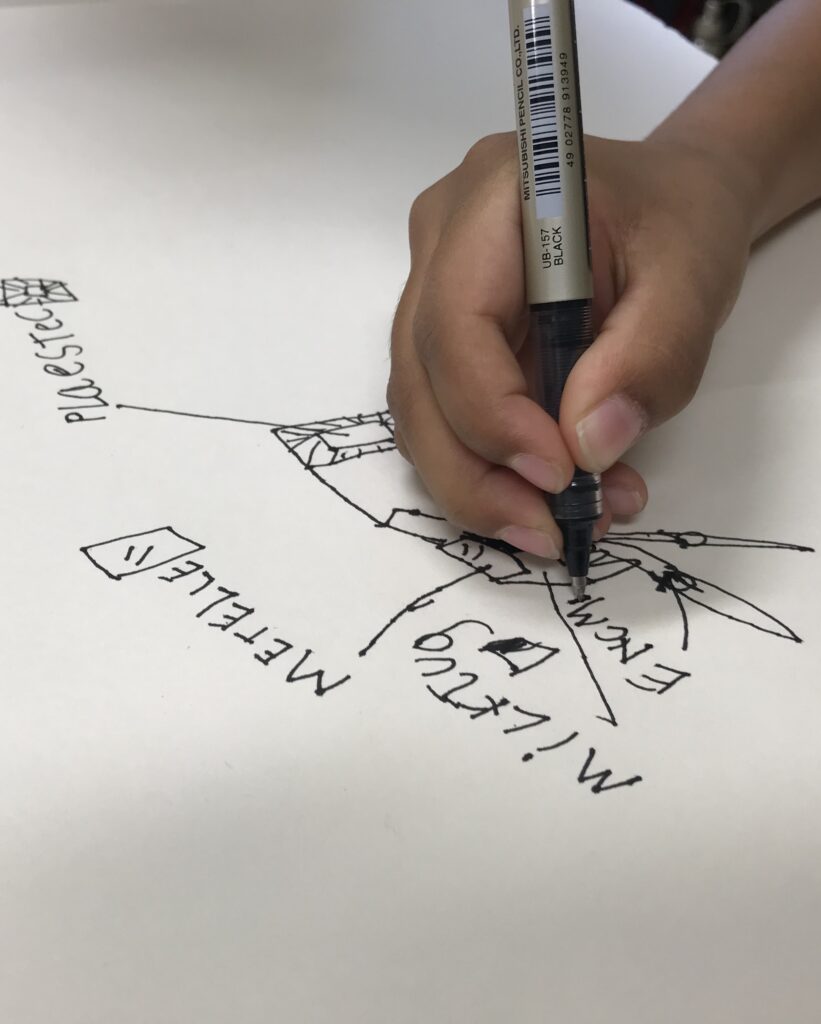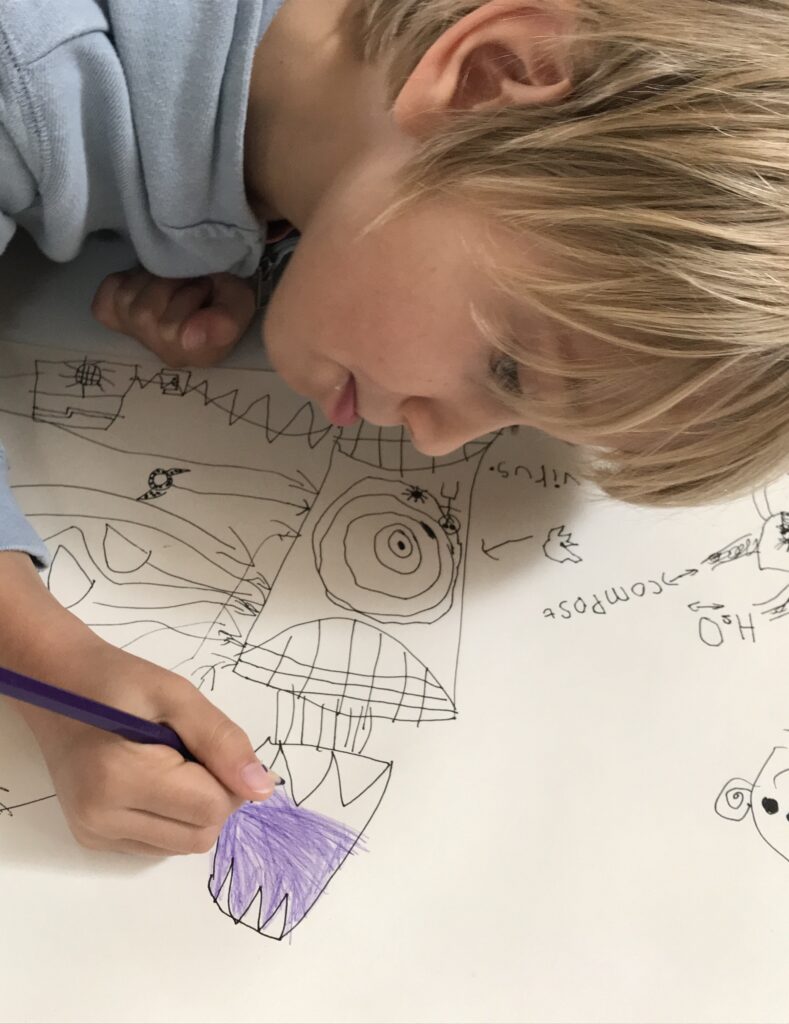 We are very proud of what we have built, and were super excited to show our families the Sound Machine at the School Expo.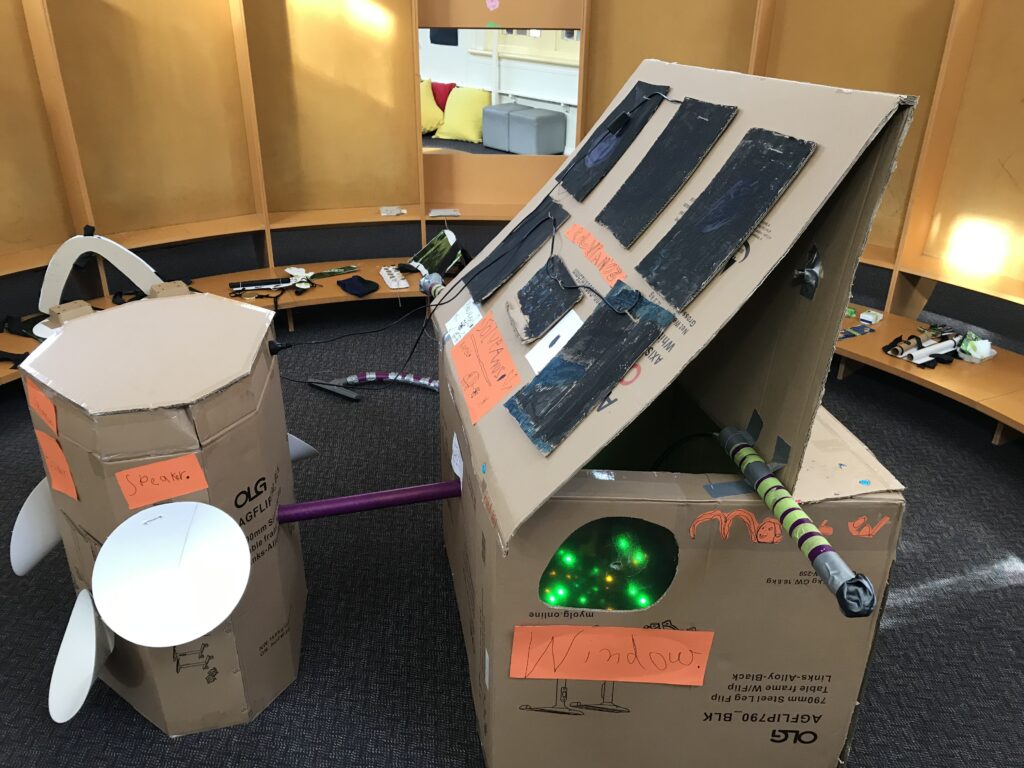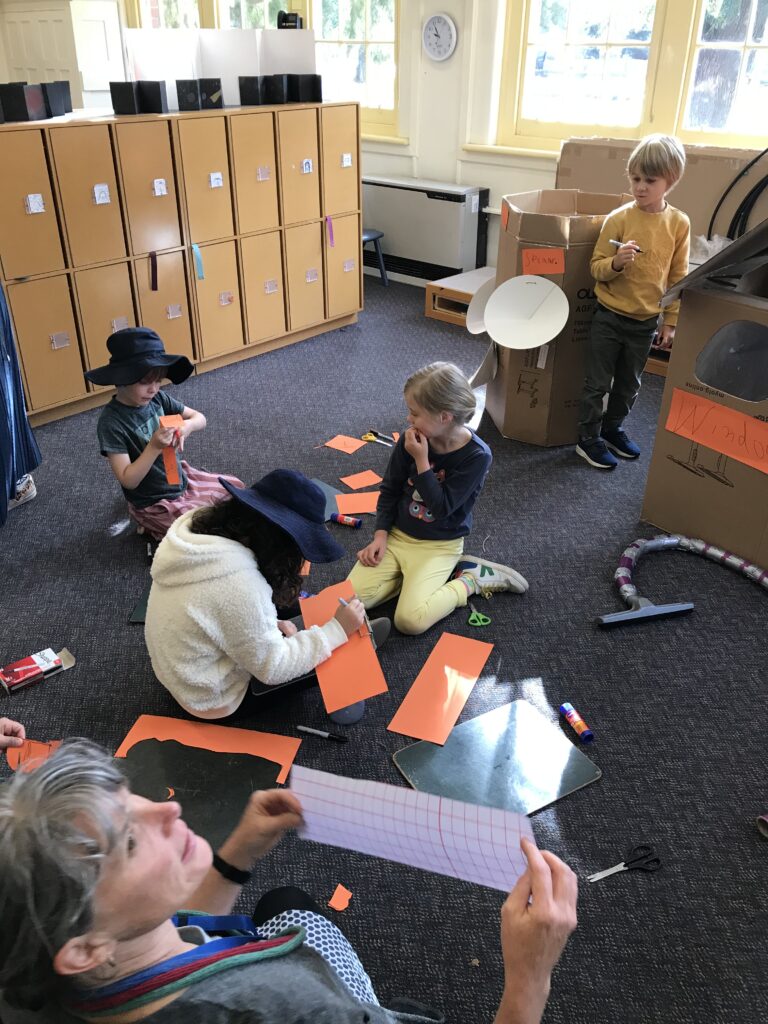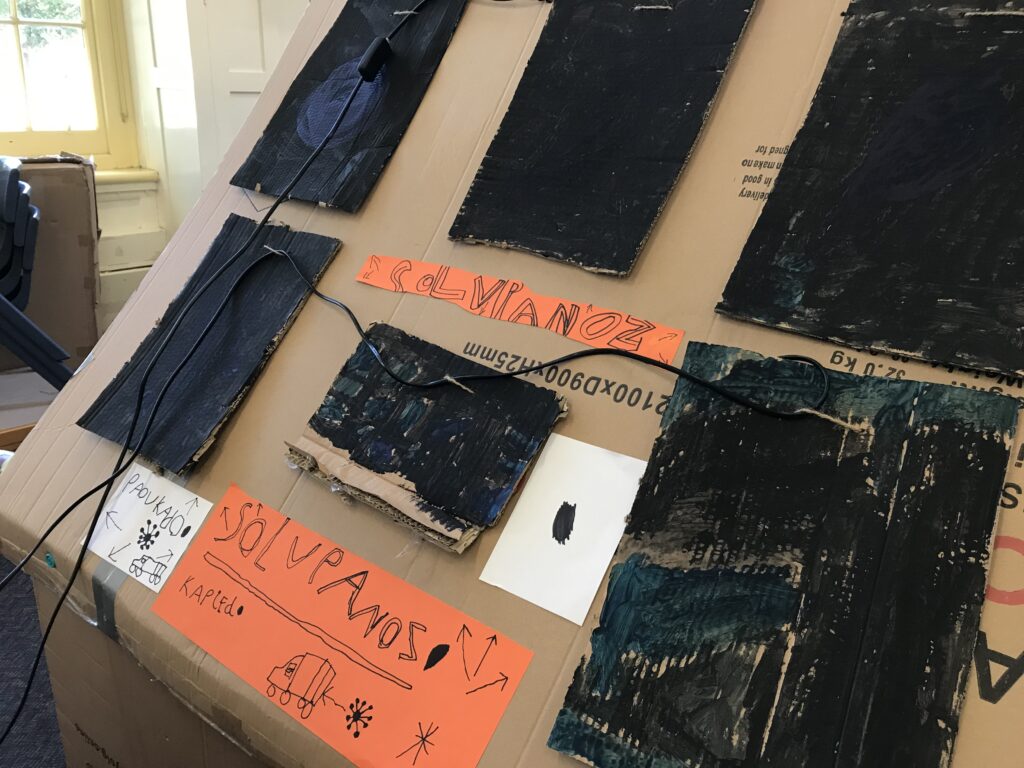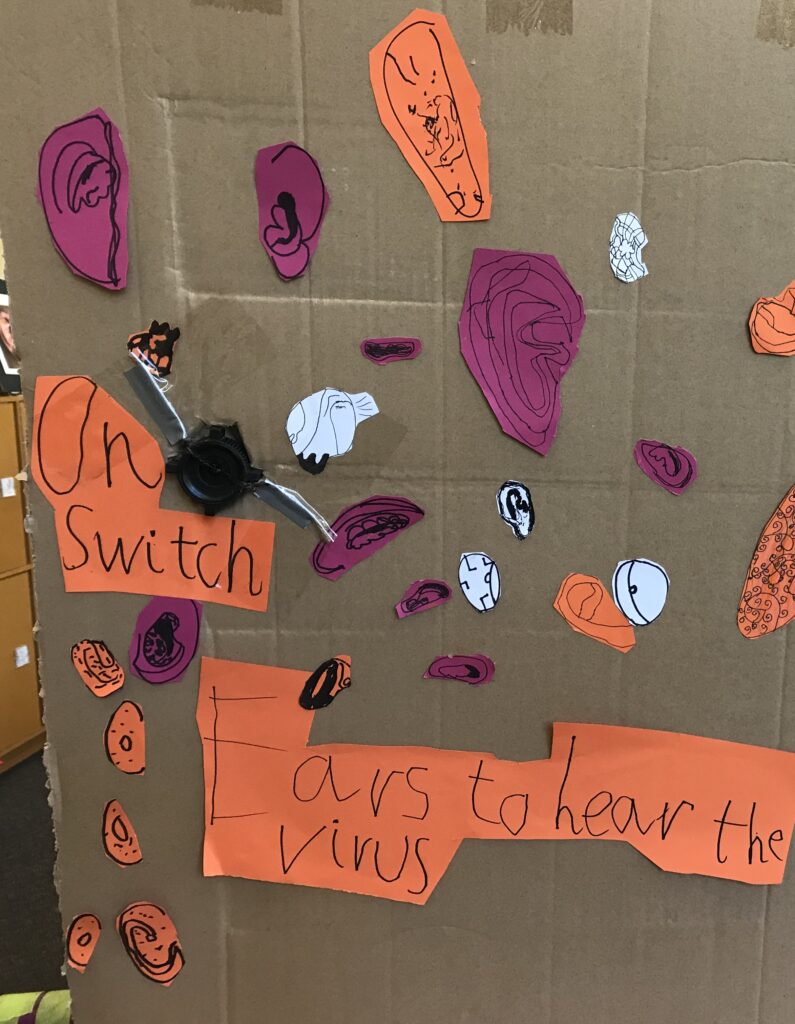 Another response to Emily's provocation of theSound Machine, was to create a machine with our bodies, and then make body armour which could be 'sounded' to create the sounds of the Corona Virus. In their Body Armour designs the students considered how different materials would create different sound qualities. The students included these details in their designs. In Simane's design, the green dots represent the footsteps of the virus.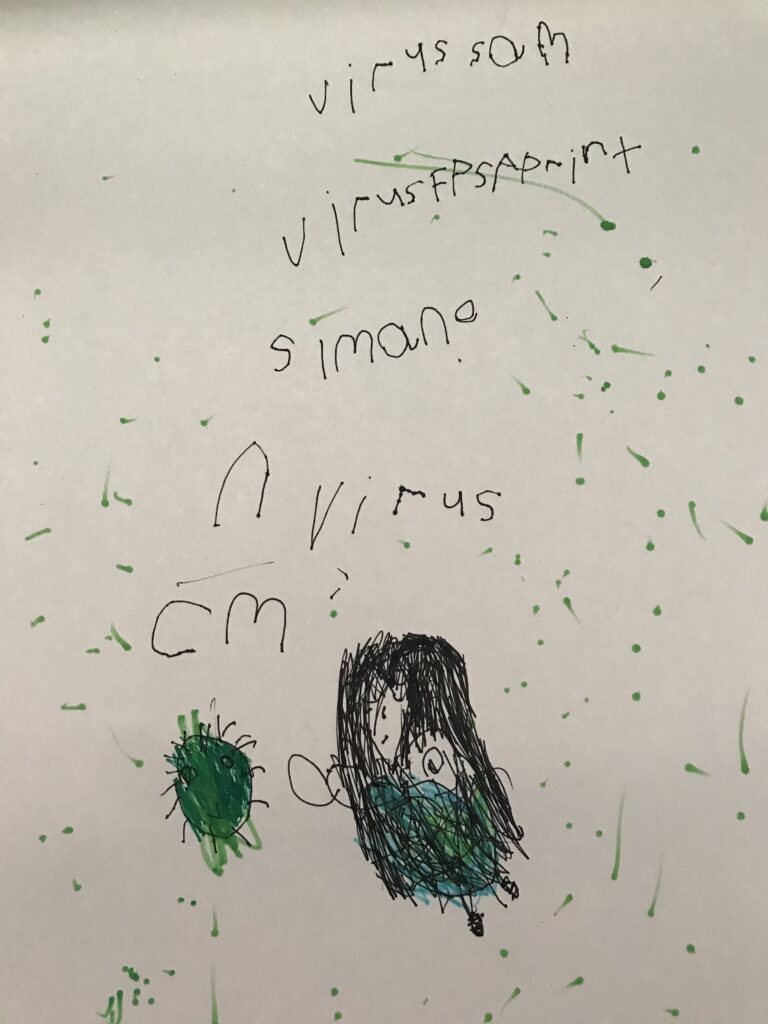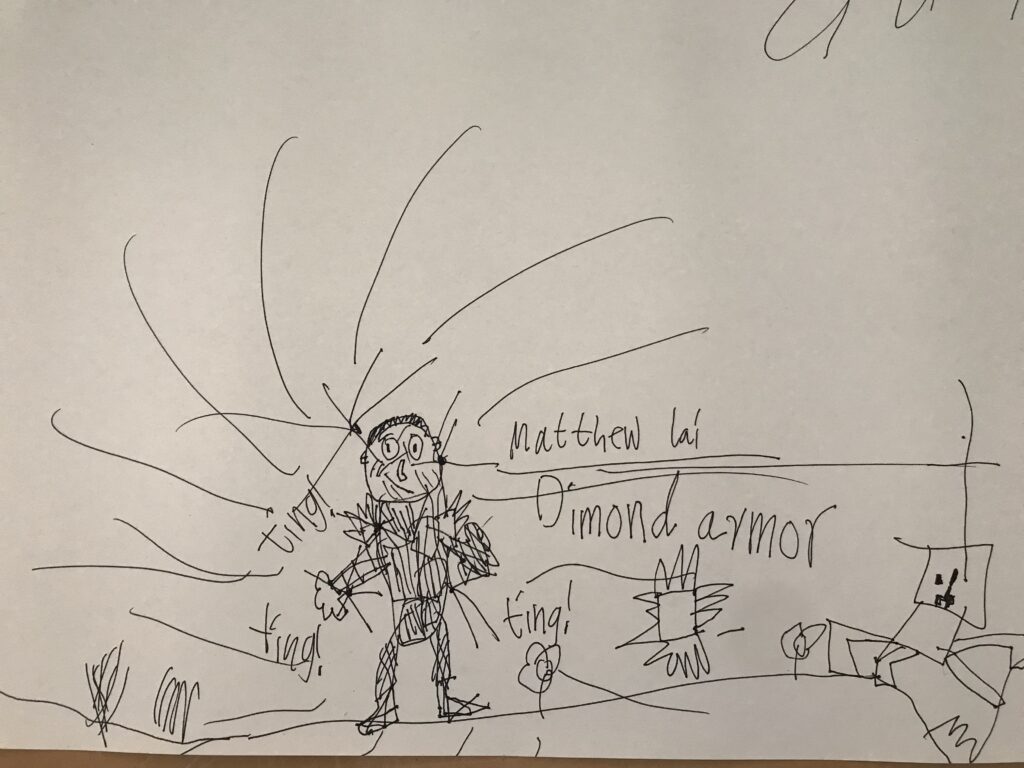 The student's armour represented machine components like headphones, a computer, cables, and switches. As well as having fun playing rhythmic patterns on the armour, by using pencils as drumsticks, we also found other sounds like scratchy static, popping, scraping and ticking sounds. When we closed our eyes to listen, we heard sounds that were very strange, and they sparked our curiosity.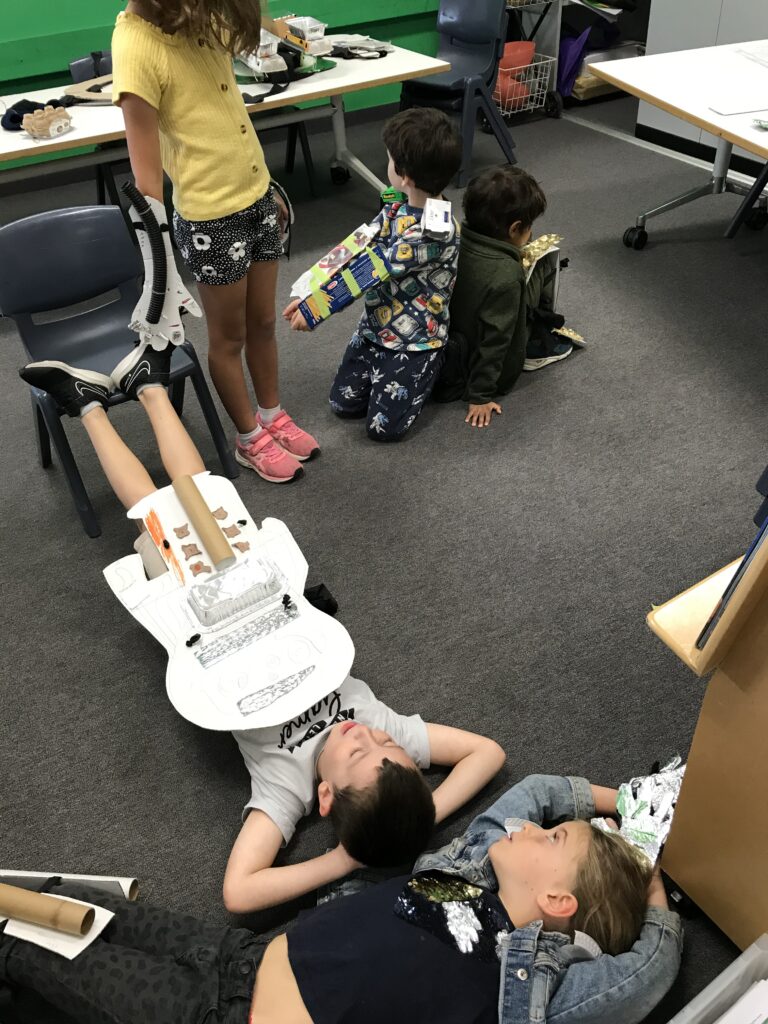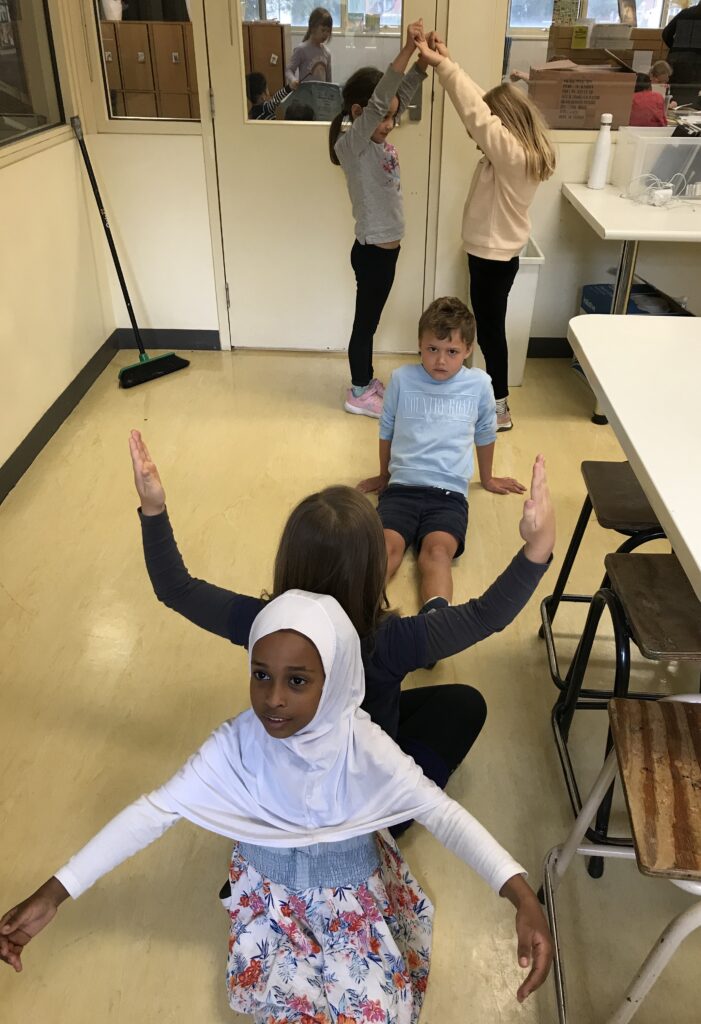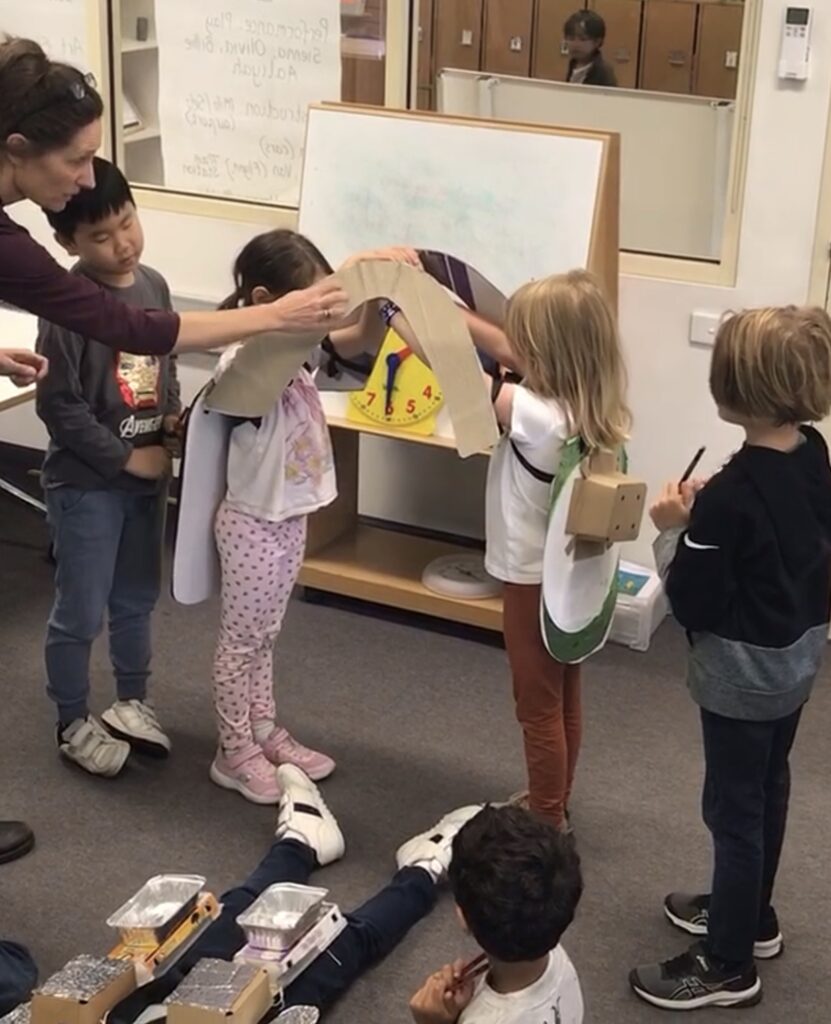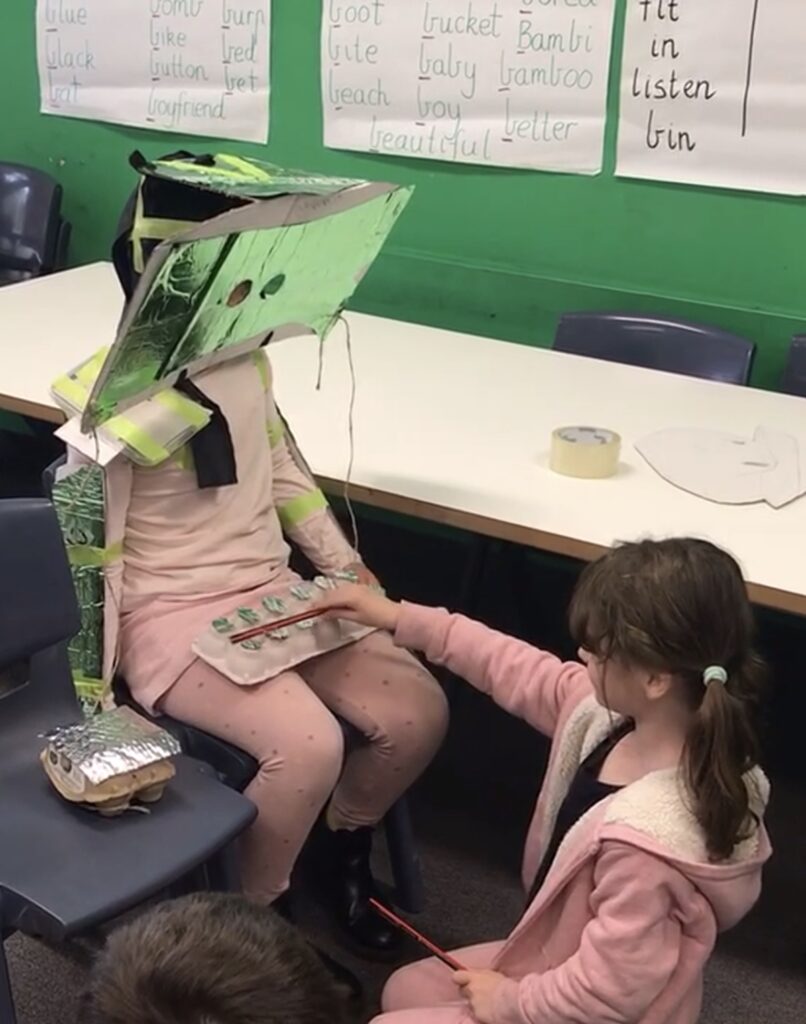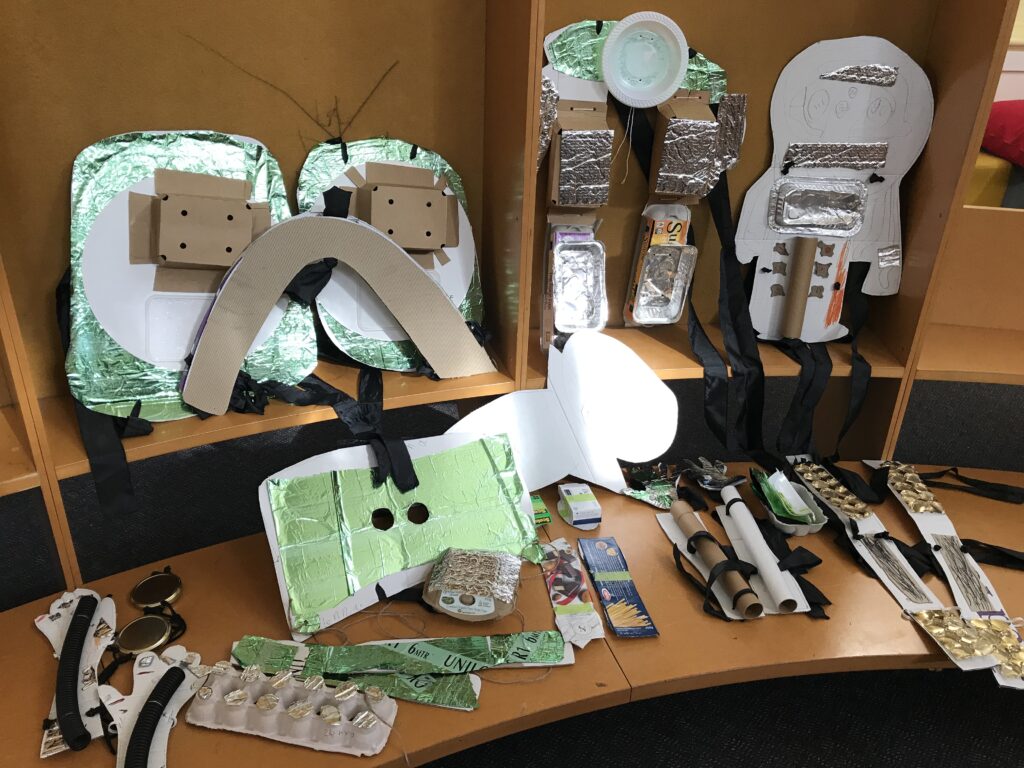 Emily also returned to last year's Yr 2s, now our current Yr 3 students. Continuing with the theme of how the Corona Virus might sound, the students used their voices and body percussion to explore sounds and create sound sentences. Students worked in small groups to choose and practise sounds, and then everyone came together to create an orchestra of different sounding sections. Students not only worked to find sound with their own bodies, but also found ways to create sound in the environment around them. They found that any object can become a potential instrument which can add textures to the sounds we make. For example, rocks swirling on bricks gave a continuous grinding sound as a background to ripping velcro and clapping patterns.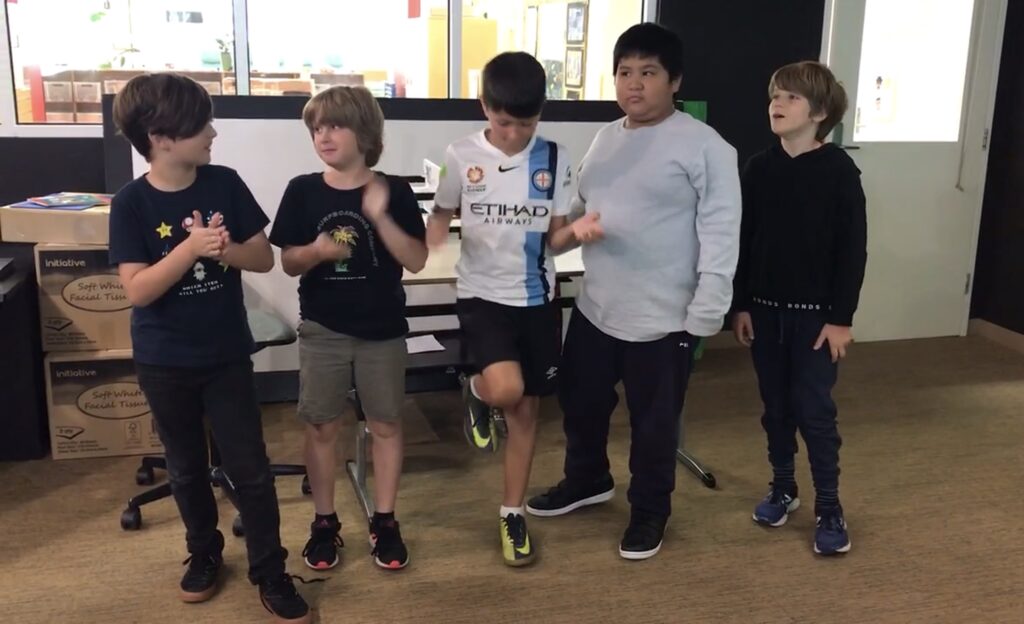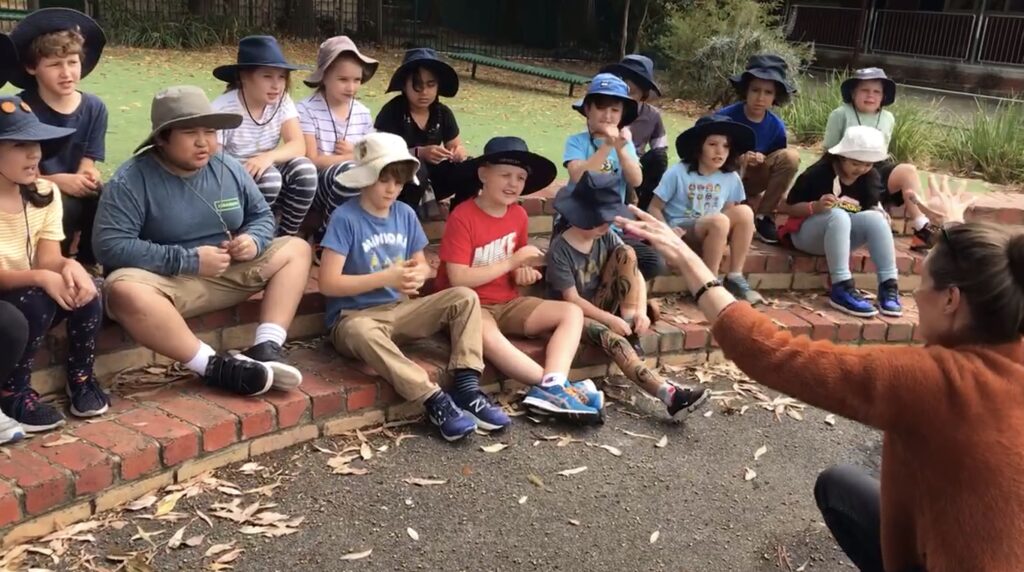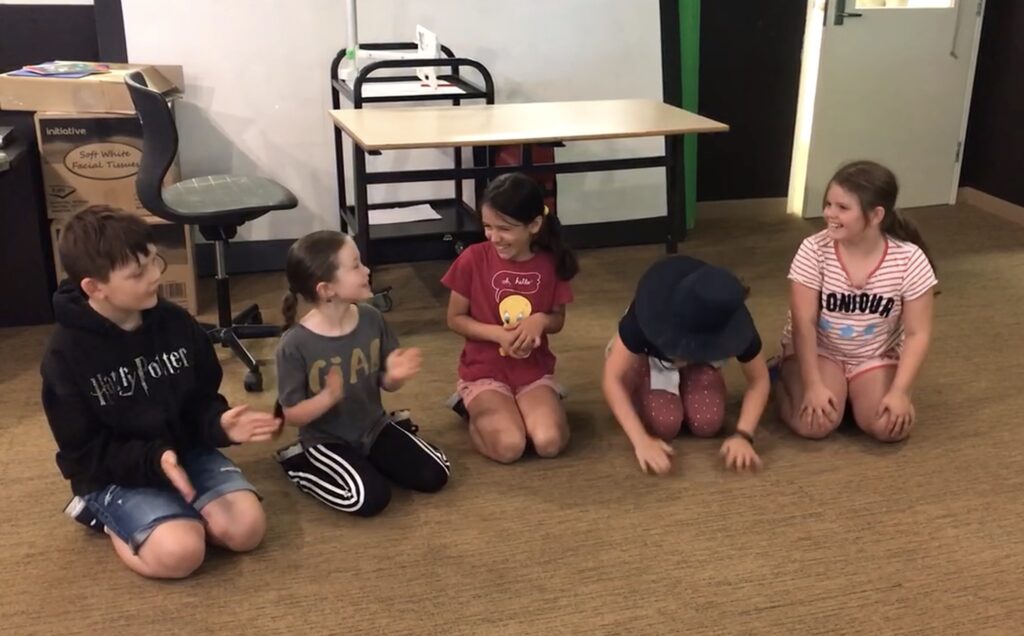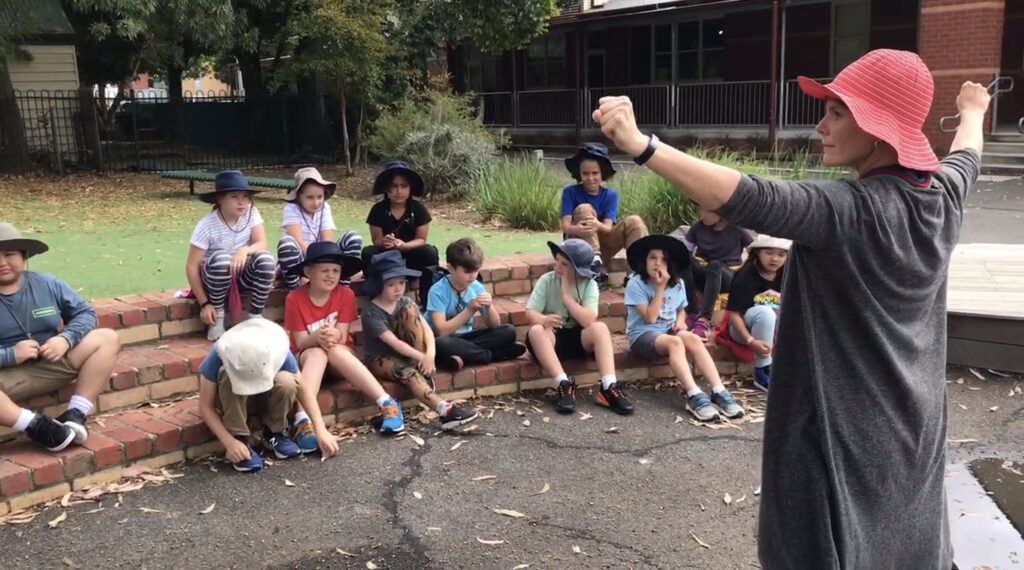 We would all like to thank Emily for broadening our understanding of sound and music making. We have enjoyed all the music games, learning about body percussion and making sound sculptures. We have especially loved expressing our imaginations though music. We look forward to creating sound worlds with you again.
🌿💐🌿💐Thank you Emily for being with us for the Wellbeing Festival.🌿💐🌿💐
Tony Yap: Masking Identity with the Year 4s.
In the same way that Tony had liberated our expectations about what we thought Dance should be, we enjoyed discovering that masks invite freedom, imagination and a whole language of induviduality.
In the Yr 4 Neighbourhood, the students were challenged to create a 10 minute mask. They were given fragments of material, wall paper samples, string and wool, and soft recyclables. There were no rules, and no wrong ways about making a mask. Banjo shared that at first, he felt unsure about how to start to make a mask and that he didn't feel confident. He said that when he looked around and saw other students being brave and having a go by engaging with the materials, he thought that if they can, he can too. He said that he didn't expect to feel confident in the activity, and that he was really happy with what he made.
It was a hive of activity and fast work. Everyone had a different spark for their ideas, and every mask had a story. Tony photographed all the students wearing their masks and made a slide show presentation for the School Expo. We reflected about the mask making procedure and how a swift process could still create a strong dynamic result. We talked about how the masks changed our identity, how wearing the masks made us feel, and how the spirit of the mask inhabited our movement.
Some students let Tony wear their mask, and he demonstrated how masks can influence how we move. The same mask can be worn and inspire movement to portray very different characters.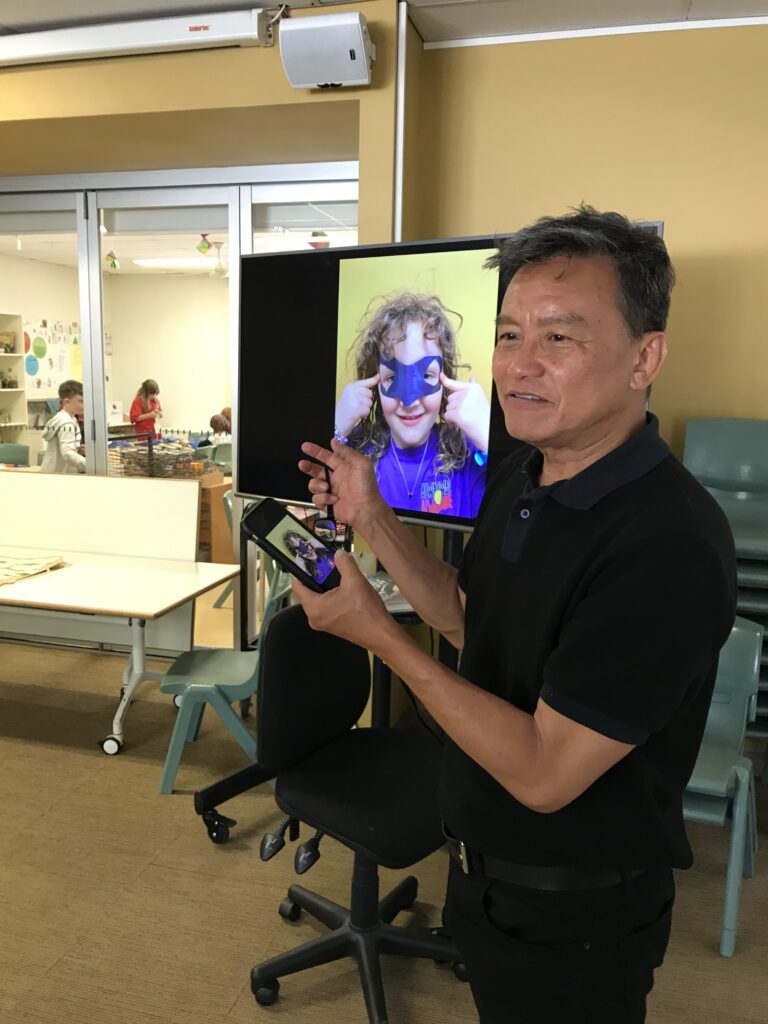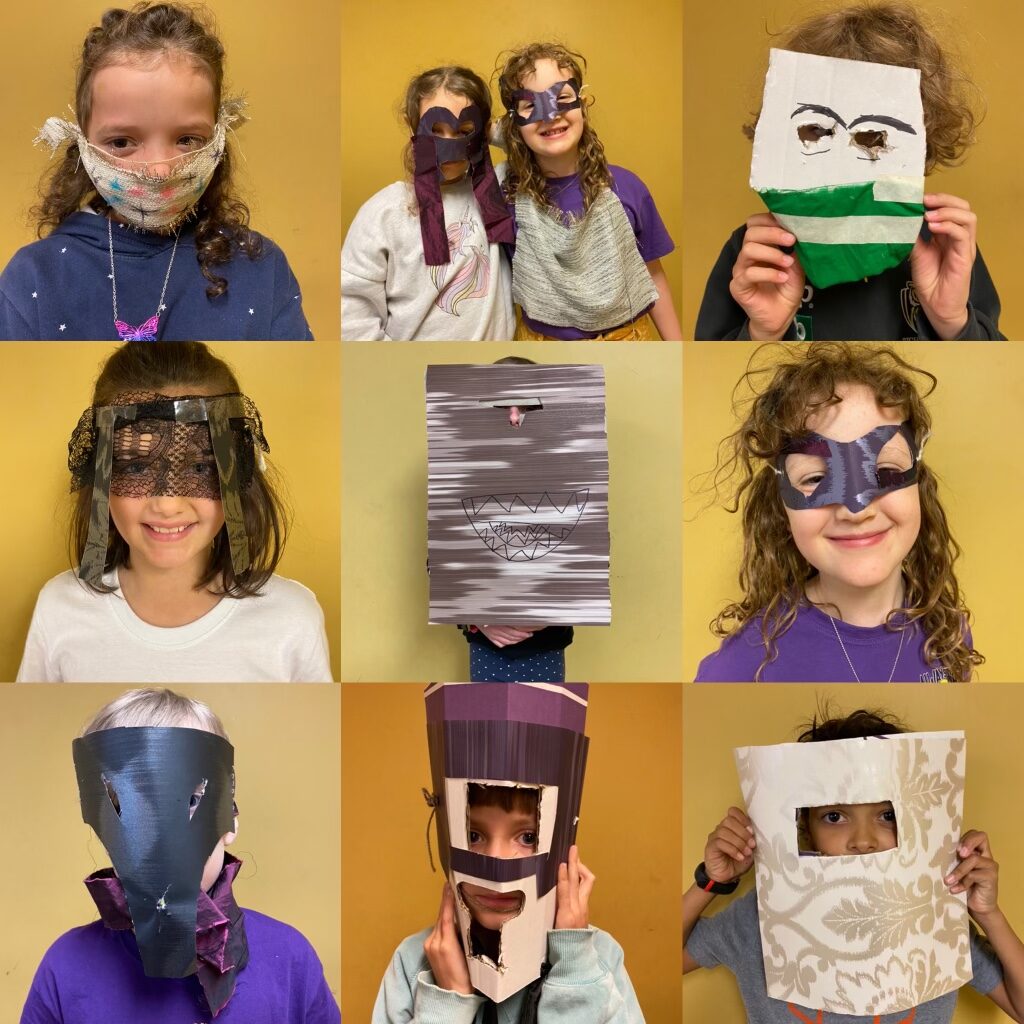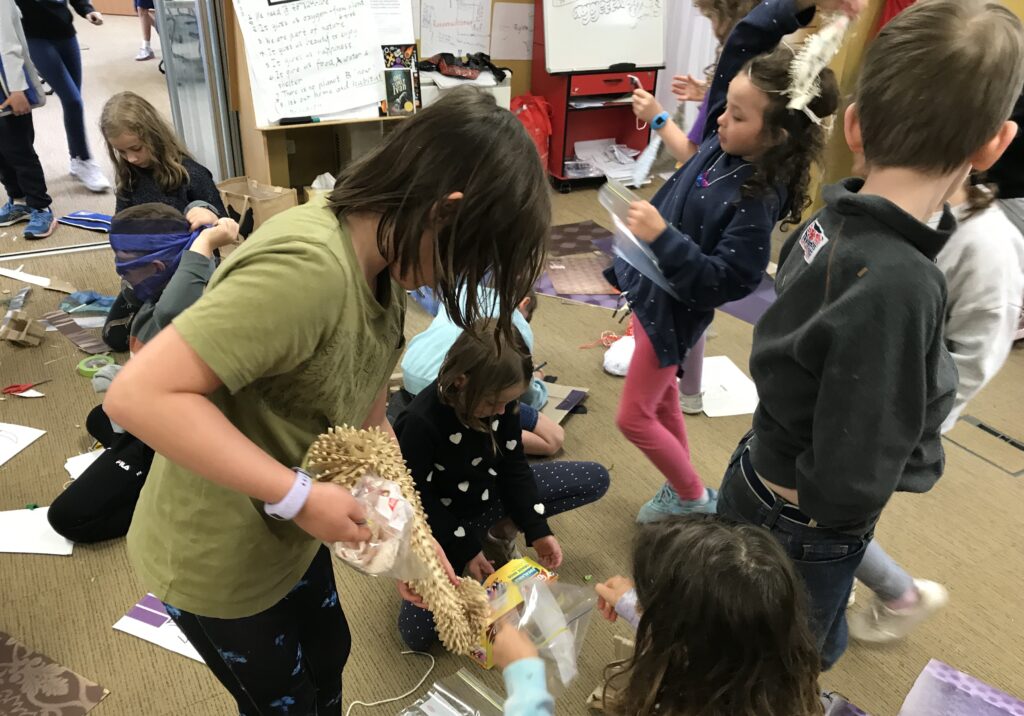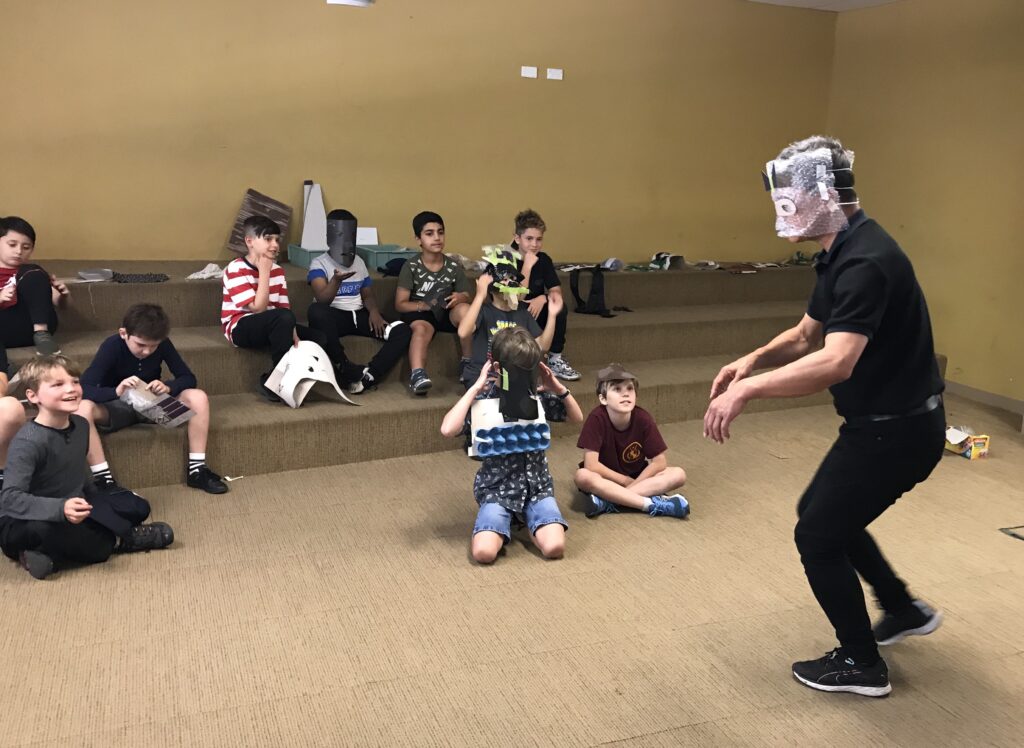 👏🏼👏🏼 Congratulations to everyone in Year 4. Tony and I were impressed with your courage and playfulness, and your ability to reflect and share your ideas.
Tony Yap:
Connecting to Traditional Masks with the Year 5/6s.
A group of Year 5/6 students wanted to draw inspiration from different mask making traditions. The process of making the masks was left up to the students: design concepts were discussed, and with the variety of materials supplied, students worked on their own creative procedure. Some students enjoyed the quick improvisation of manipulating found materials, while others embarked on designs which required multiple sessions to complete.
Tribal mask designs, masks evoking spirits or empowering strength, and delicate decorative masks extended the student's imaginations. Over the creative sessions, students formed a connection to their mask and it's purpose. How would it would make them feel to wear it, and to move in the mask?
As with the Year 4 students, Tony prepared a slide show of photographs of the students wearing their masks for the School Expo, and the masks were also exhibited. Some of the students had time to reflect on the mask making process, and to demonstrate a movement choreography inspired by the mask. For other students, it was a proud achievement to complete their mask in time for the Expo. As with the Year 4s, Tony and I are so delighted with what the students made, and that they had the freedom to create a mask that was meaningful to them. Some students commented that they really enjoy people's individual choices of cloth masks for protection from COVID-19, and that with the variety of fabric designs available, the serious need for the masks is 'masked' in a way that helps lift peoples spirits.
Thank you and Congratulations to all the 5/6 students and teachers 👏🏼👏🏼 It would be fantastic to go deeper into the ideas and concepts explored in this activity with Tony, but we have all valued this vibrant, creative response to living through these 'COVID-Normal' times.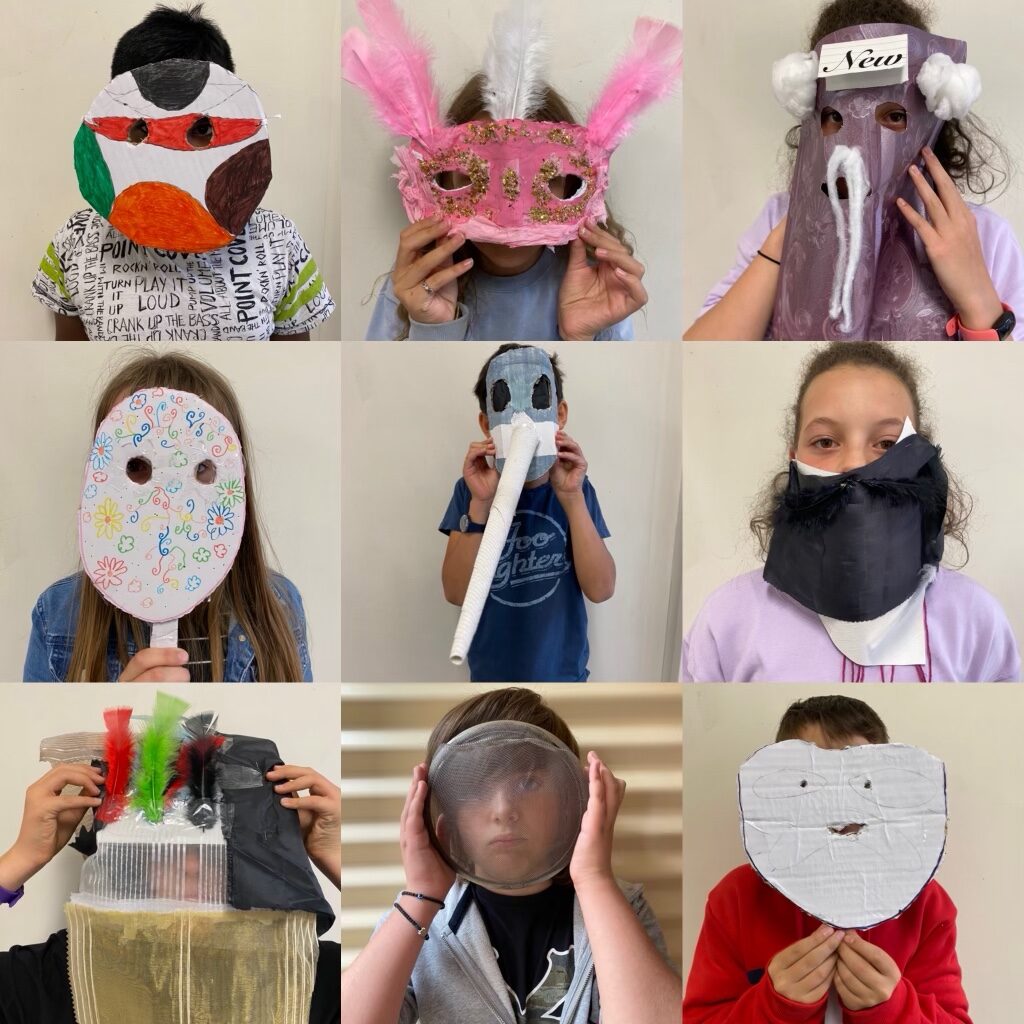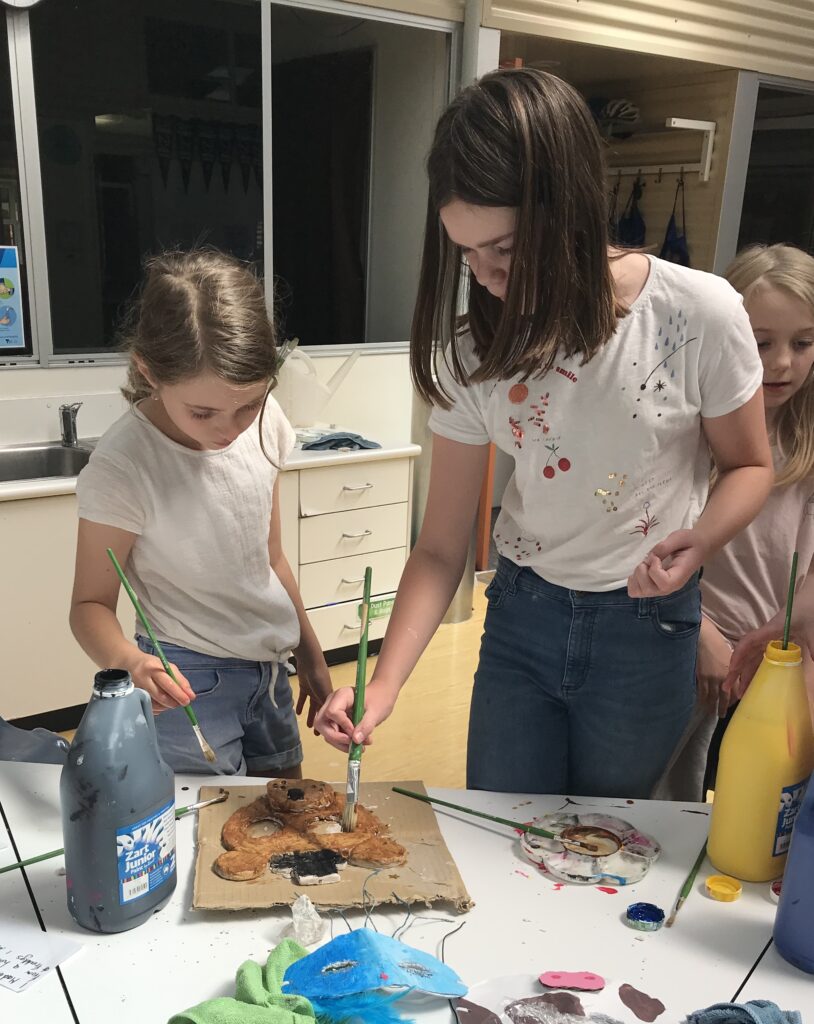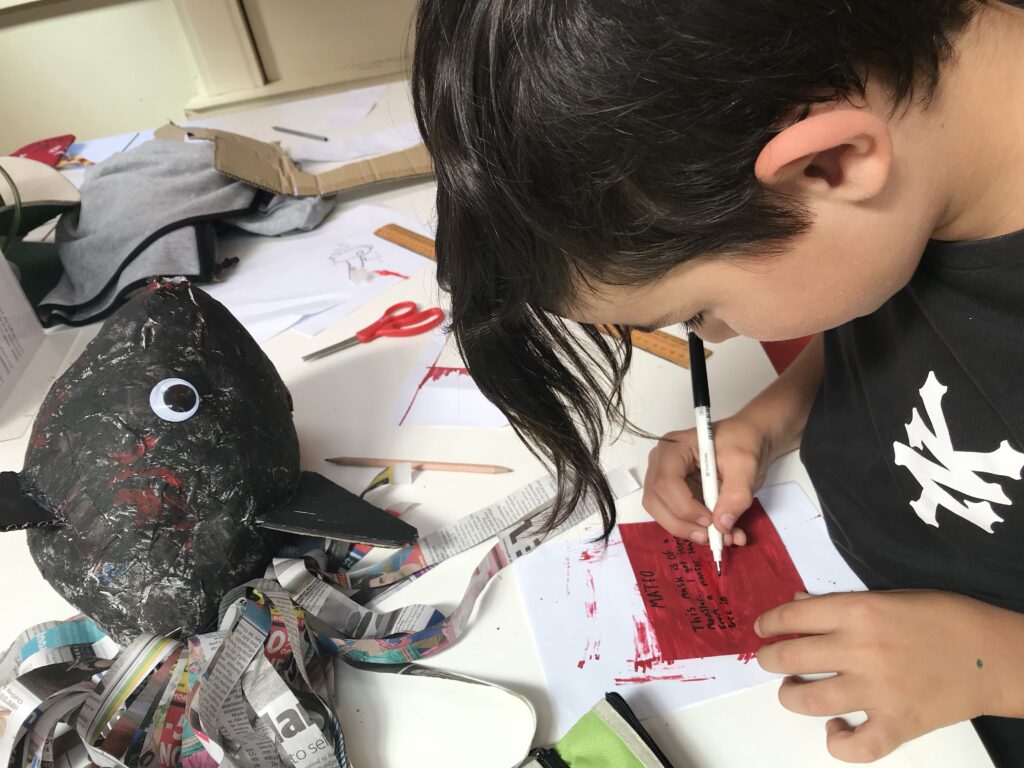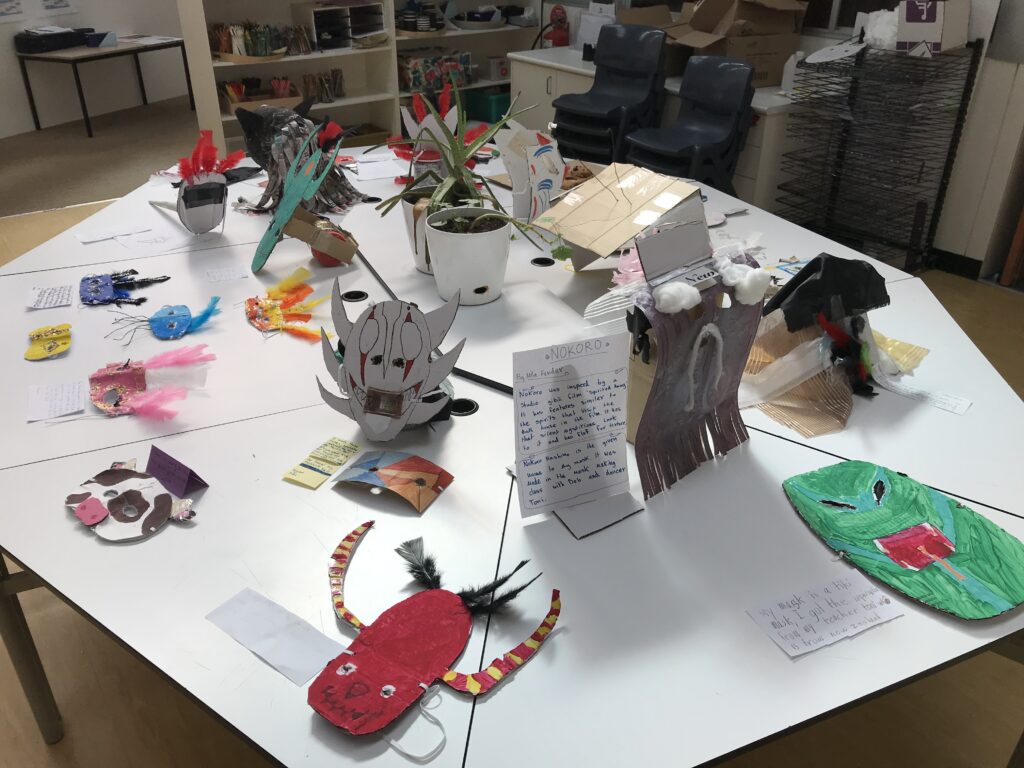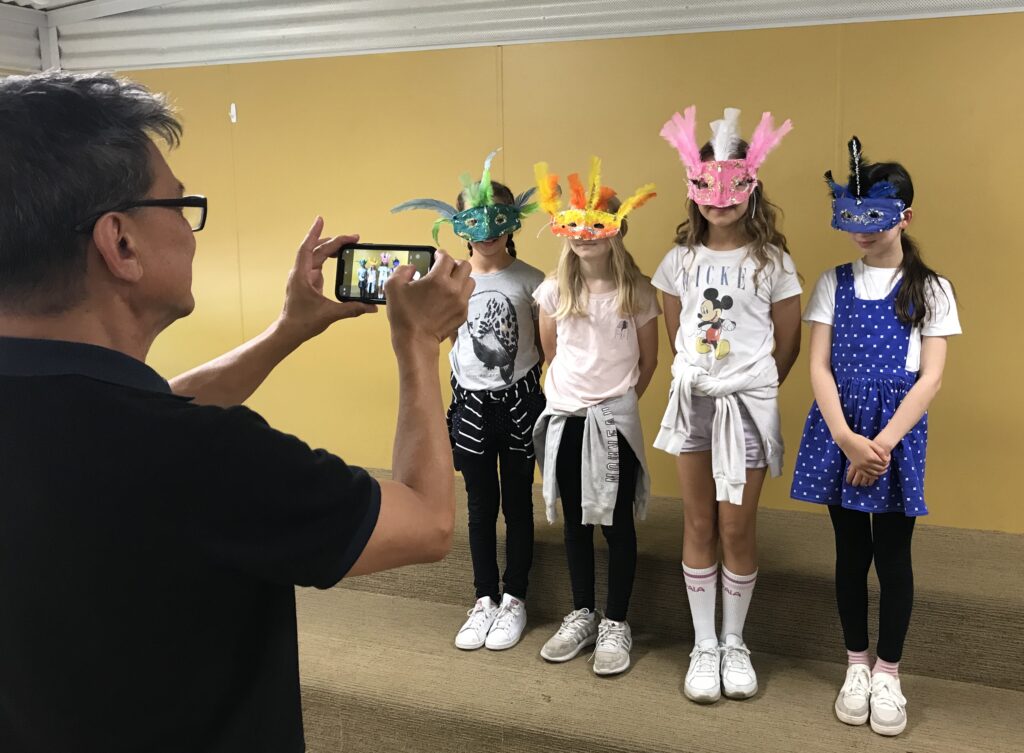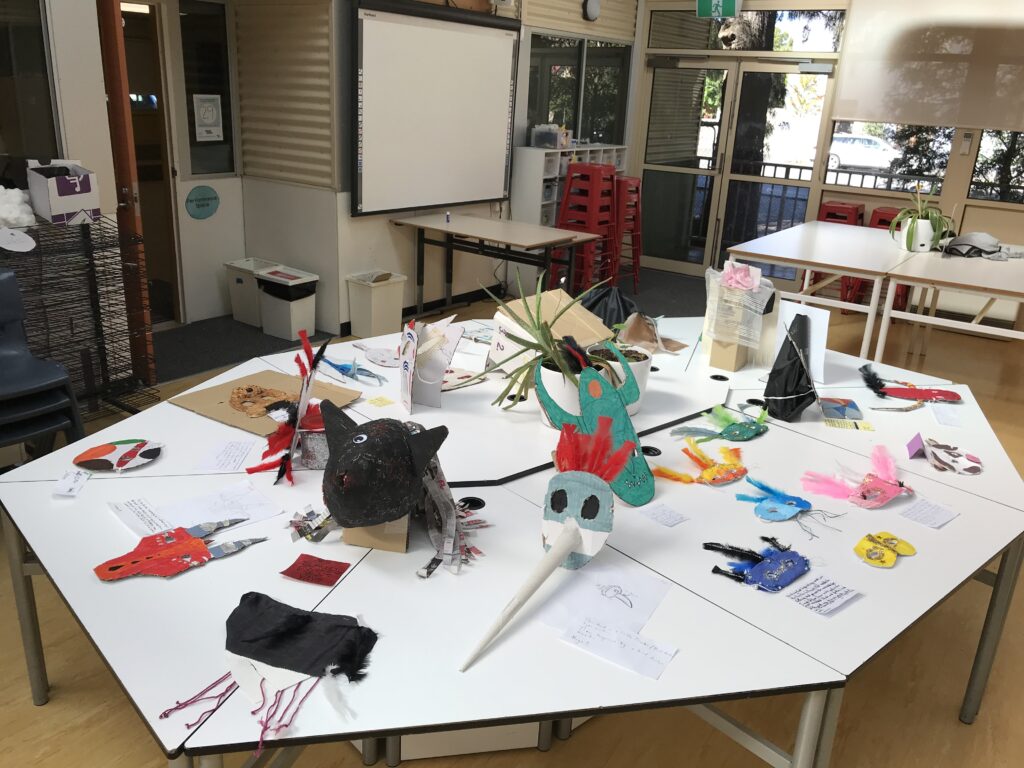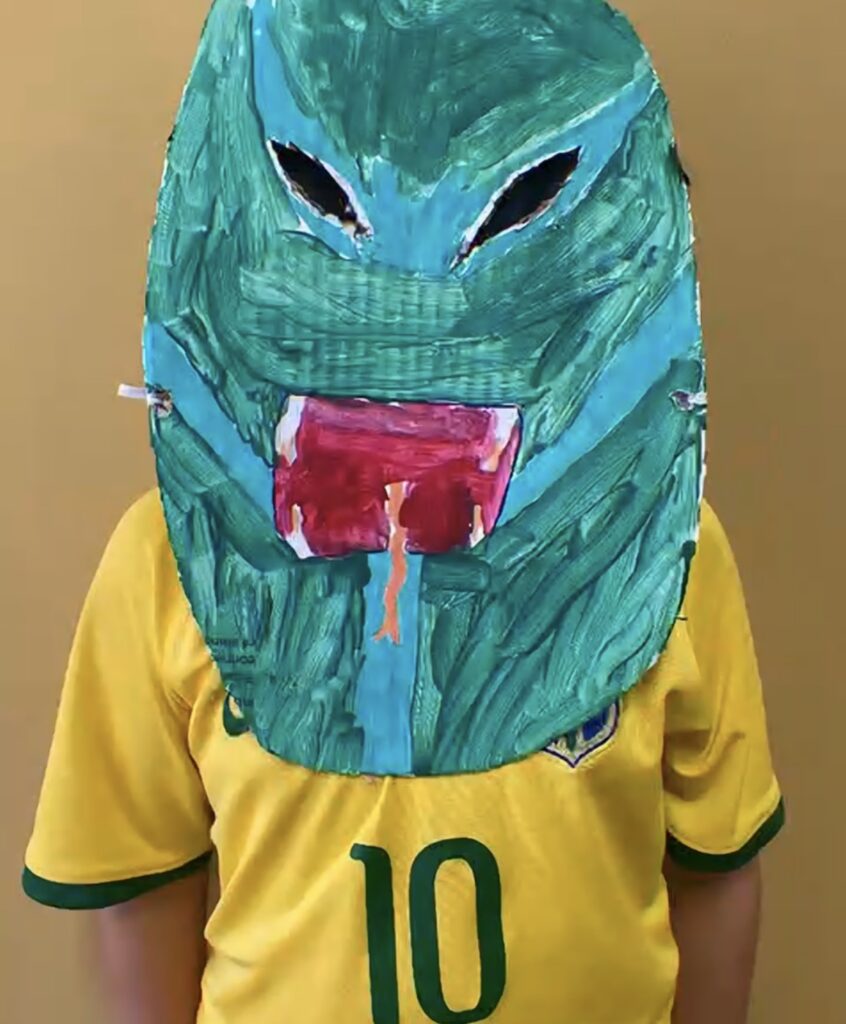 Everyone at PHPS would like to thank Tony for being with us during the Wellbeing Festival. The insights Tony has shared with us and the way he has invited us to respond positively to our own individual, daily choreography of movement, has inspired confidence and acceptance within ourselves.
🌿💐🌿💐Thank you Tony for being with us for the Wellbeing Festival.🌿💐🌿💐
Deb Kayser:Artist in Residence in Music. 24.03.2021