It's a happy feeling to be back at school and to swing back into music making: I missed everyone as I nursed myself out of 'virus land' last week. I would like to invite you to take a moment to read about the wonderful student performances and music making that put the last two weeks of Term 1 into 'Top Gear'. Somehow, the last edition of Talking Point had a link to the previous edition, very likely a 'Deb tech thing' and my apologies for this, however, as the seeds for Term 2 are sprouting, we have an opportunity to pause and remember what a tremendous end we had to Term 1. There were fabulous student performances in both the Harmony Day Assembly and the Instrumental Music Assembly, which included a Tribute to Keith. The other outstanding performance was given by the Preps at their Teddy Bear's Picnic. These events are fulfilling on many levels for not only do they provide performance opportunities for our students to work towards, but they bring our extended community together to share in their children's achievements and feel a sense of belonging, which is why it's important to pause and reflect, and be inspired, as we move forward. Please click on the link below to read on.
Our Harmony Day Assembly was a very special gathering. We were delighted to welcome back to our school 'our' lovely harpist, Genevieve Fry, to accompany the students. As the community entered the gym, so calmly and respectfully, they were treated to a beautiful performance of 'Somewhere Over the Rainbow' with Ziyu and Niamh playing a violin duo with Gen. This tune, a sentimental favourite for us older folk, is a song that yearns for a place where dreams can come true, a place far away beyond the chimney tops, and far from the place where the singer feels they don't belong. The focus for Harmony Day this year was 'everyone belongs', and whilst we can't always choose our dream location, a big part of our own sense of belonging is reflected in the people around us and how they make us feel. It is something we reflect on daily, and it grows from us, up through every level of society.
This sense of belonging, of feeling included and represented, was something that inspired Judith Durham to collaborate with the Indigenous musician Kutcha Edwards to write a new set of lyrics for our National Anthem. This revised song, for it is not our official anthem, is performed across Australia for all kinds of occasions, including major events. It's central themes are respect for the land and it's people, honouring the past, and caring for the future. The last part of the song includes the lyrics 'And when this special land of ours is in our children's care, from shore to shore for evermore more, advance Australia fair.' This line resonates deeply. We give our children 'our everything' so that they can grow to care for themselves, their community, our land and its people. Thank you to the students for singing this song so beautifully, to Gen for setting a gentle and lulling accompaniment on the harp, and to the choir for singing the descant. And, thank you to our parent community for singing along too, I could hear the warmth of your voices which really supports the children, and not just through sound, but by adding your voices to theirs' you stand beside them physically and symbolically.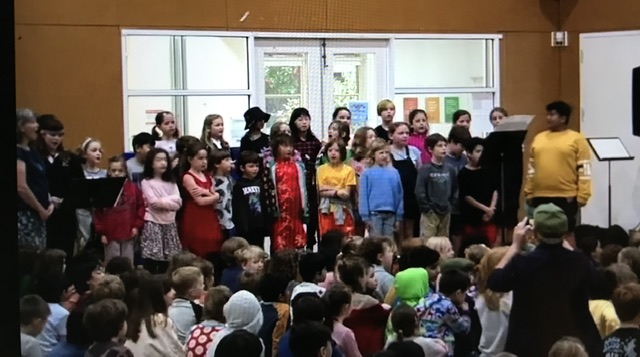 Last Friday's Instrumental Assembly was another celebration of achievement. Bravo to all our performers, some of whom had only been learning since the start of this year. A huge 'shout out' too, to Olivia and Louis who are our Assembly MCs. They do a super job, and have a great sense of keeping the show rolling. There were many 'stand outs' amongst the performances. Marcos and Mark's students performed in larger ensemble groups with 15 students in each: a great way to help less confident students onto the stage. Jen's flute students all performed confidently and did a terrific job to 'fly solo' without their teacher, as Jen was not available for the Assembly. Claudia and her Dad 'nutted out' how to play Hedwig's Theme on the flute. I was impressed that the inspiration of this melody led to the working out of a transcription, (more learning occurring here than a free Download off the internet), followed by the conquering of tricky bits as Claudia learnt how to play the theme, and then the completion of this learning journey with a great performance. Bravo Claudia and Dad.
Sasha's students love her for many reasons, but one reason is just like Claudia's. If the students are hooked on a great song and they are desperate to play it on the violin, Sasha will help them to work out how. So, 'top job' congratulations go to Kat and Sarah for performing their favourite tune, and a crowd pleaser too, 'Enchanted' by Taylor Swift. It's really pleasing to see that there are new clarinet students emerging, and we enjoyed all of their performances on Friday, as well as those ever popular tunes the 'Star Wars Theme' and 'You've Got a Friend in Me' played for us by the saxophone students.
Thanks to everyone involved in supporting the IM program: a lot happens behind the scenes to facilitate our young performers. Bravo to everyone.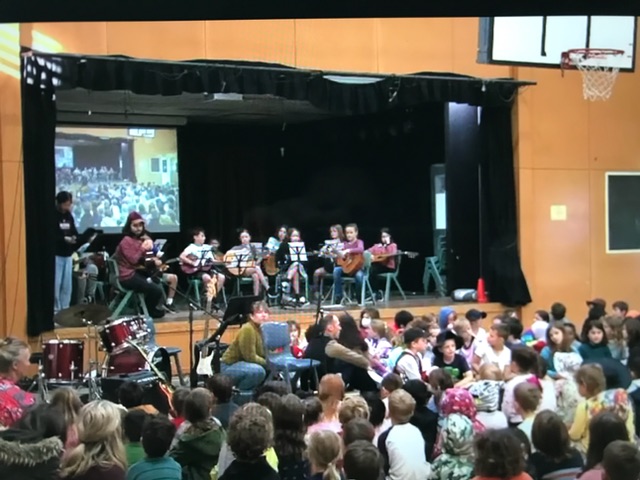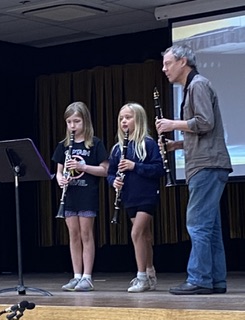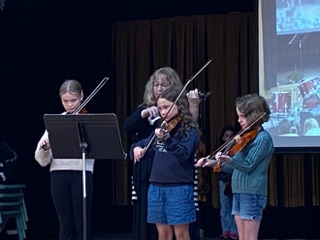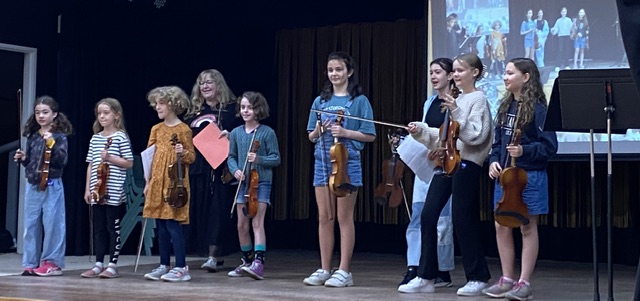 And now to Keith's Tribute song. With passion and heavy hearts we sang, 'We'll miss to Keith, You've been the best for our school'. Sigh!! With the exciting news that Keith has been appointed the Principal of Abbotsford Primary came the 'thunking' realisation, 'Oh, this means Keith is leaving!' When you have given your all to our school over many years, there is no way you can slip quietly out the door. So, with two weeks to get the whole school on board we worked away at a 'top secret activity', 'Keith's Song'. It was a secret, the Preps promised that they could keep a secret. One Prep said to Keith 'Keith we have a big secret, we are learning song for you but we can't tell you what it is'! LOL, they kept the secret! Thanks to Jacquee, Toni and and Richard we had 'Keith facts' for the lyrics, and needless to say, the melody had to be a pumped tune that is well loved across the school, so, none other than Eye of the Tiger. A number of parents have asked to see the lyrics. With thanks to Keith for agreeing to share them, here they are.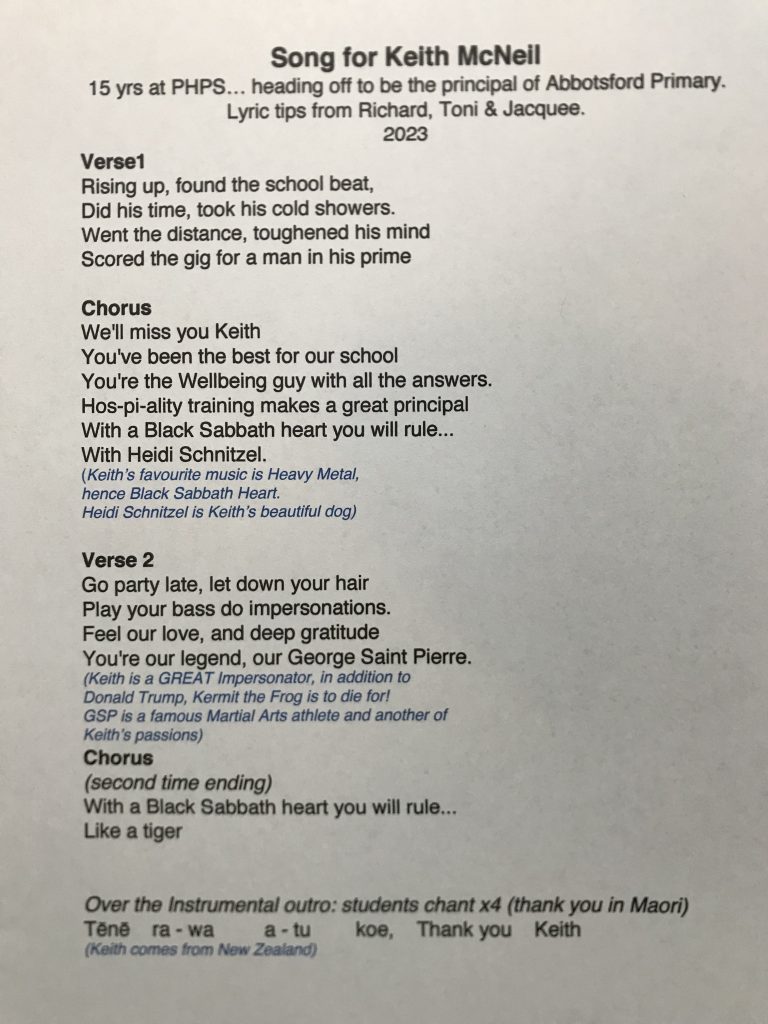 The whole school had a lot of fun preparing this song, we had students 'on look-out' to check if Keith was near by, otherwise they 'cranked up their voices'! Great job every one too, for memorising the lyrics in such a short time. A huge thanks to our band: John on electric guitar, Mark on bass, and Arlo from Yr 4 who held a sure beat on the drum kit. As a bass guitar player, Keith was a founding member of the school's rock band 'Lost Property'. He has played in countless assemblies, special events and 8 Graduation Songs! Thanks Keith, we wish you all the best and we'll keep the band going for you!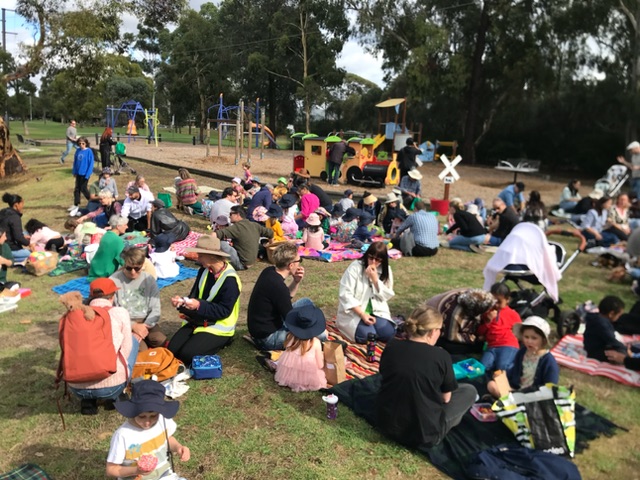 After a cautious week of tracking Melbourne's rainy weather, we were blessed to enjoy a dry morning with some sunny moments for our Prep's Teddy Bear's Picnic. It's always a delightful event, and a big performance 'first' for the Prep Neighbourhood as they present a song for their families. The Preps were amazing! Having sat through an extended assembly all morning, they headed off to the the North Carlton Railway Neighbourhood House with all the energised anticipation of meeting with family and friends, some of whom had travelled from Tasmania and from many regional towns.
Teddy Bear Picnics have been a childhood 'must have' for nearly one hundred years, for it was in the 1920s that the lyrics of the then poem 'The Teddy Bear's Picnic' were set to a famous marching tune. We all remember the first verse and the chorus, but only those with 'true-blue bear hearts' know that there are three verses to this song, and our clever Preps memorised the first two, and sang them superbly. Bravo Preps, a lot of learning has been achieved, not only through mastering this song, but also, you had your first walking excursion! How far you have come in your growth as a group of children in just nine weeks. Remember your lyrics as you will need them for the next generation of teddy bears.

Our super School Choir has enjoyed a busy Term welcoming in new students and learning new songs. The choir meets for just half an hour a week, so what these students achieve is all the more impressive. Emily invited all the choir families to attend a mini performance to celebrate the end of Term and we were delighted that all the staff, who were enjoying an end of Term afternoon tea, came along too, a really lovely gesture that means so much to the students, Emily and me. You may know the joke, never suck on a lemon in front of a flute player! Well, our choir students did a fabulous job to keep on singing whilst their teachers enjoyed their plates of cakes and savouries! Emily has an infectious way of encouraging people to sing, and the choir just loved having their families and teachers singing along with them in the song 'Lean on Me'. What a great way to end the Term, thanks Emily and Choir.
So, with a heart felt thank you to everyone for a wonderful Term 1, we now look forward to what will be an exciting Term 2. On the horizon line we have our Mother's and Special Carer's Day Assembly, and I'm feeling the lure of metal percussion. Did I mention that we have 6 new steel tongue drums to add to our collection? There will be whole school singing, Instrumental Music performances, and an opportunity for students to perform in Neighbourhood concerts too. It's great to be back: enjoy the next couple of weeks everyone. Cheerio, Deb.