As part of our inquiry into museums, we have been exploring natural and personal artifacts. We understand that there are different types of museums and our camp to Sovereign Hill highlighted what we can learn from a living museum. This week the students of Year 4 attended a two night, three day camp in Ballarat and we were all intrigued to learn about and to experience the gold rush in the 1850s. This reflection of our experiences at Sovereign Hill was written as a shared piece of writing by the Year 4 Neighbourhood.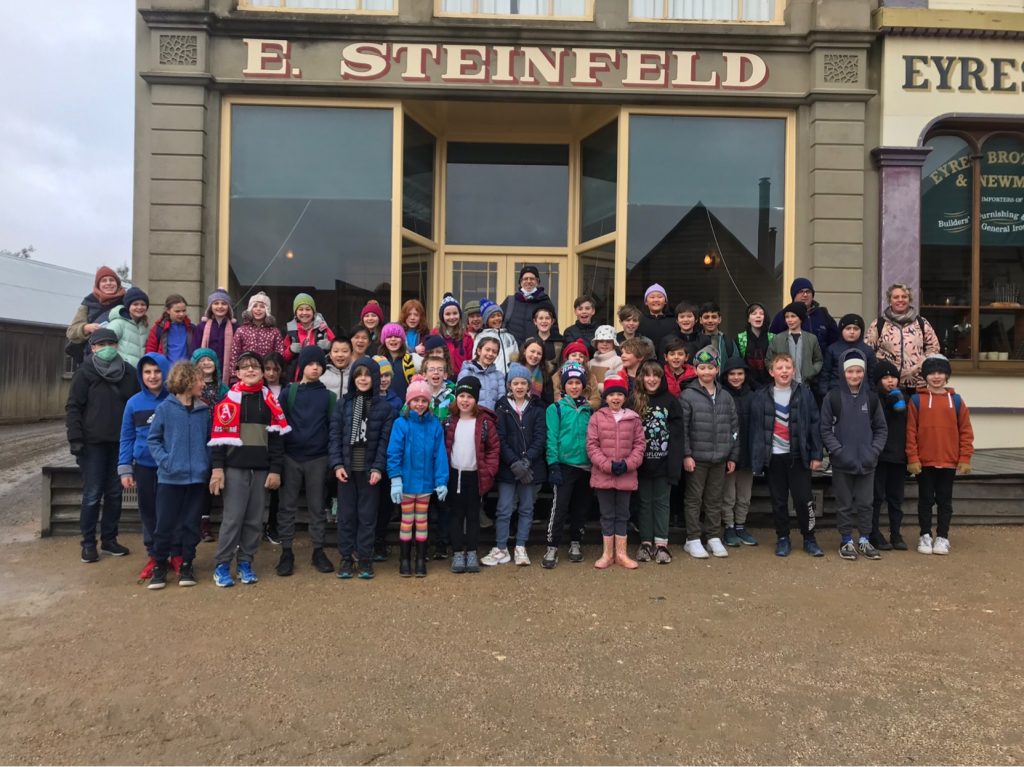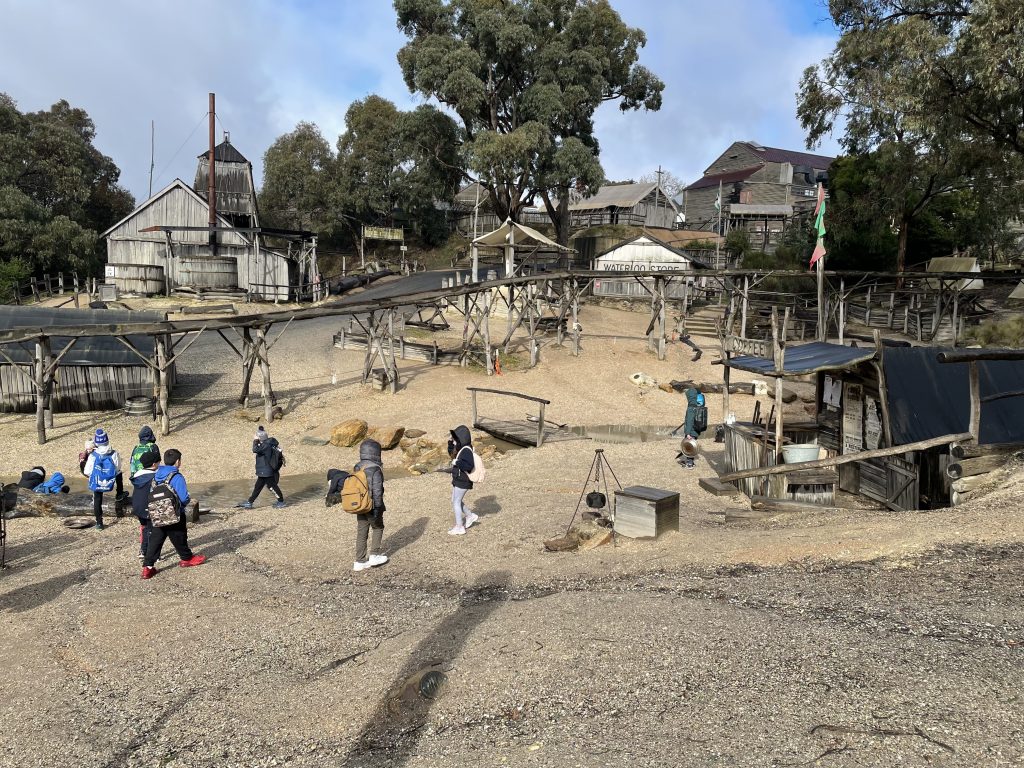 We thought it was really interesting to see how people lived in the past, and for most students it was their first time to experience this. We were fascinated to see how life-like the streets, buildings, and characters of the time were. We enjoyed seeing characters come to life, especially the scene outside the theatre where the performance happened around us on the main street. It was interesting to see costumed school kids doing their work in an old fashioned classroom and some of us even witnessed an arrest while we were panning for gold by the creek! A woman was illegally selling grog (on side of other drinks and food) to the miners from her tent and a trooper fired his gun in the air and ran after the woman to arrest her.
While we moved around the different areas of the living museum, we were able to talk to different characters to learn more about life on the gold fields. We talked to a trooper who showed us his carbine gun and his sabre. He also gave us a demonstration of shooting his gun. We spoke to a photographer, who told us that even if you were rich it would've taken you a very long time to save enough money to have a photograph of yourself taken. Most people only had one photo taken of them when they had passed away so that it could be sent back to their family. To have your photo taken, it would take 10-15mins, and if you moved a muscle in this time the photo would come out blurry. This is one reason why people didn't smile in the photos. The other reason is because there were no toothbrushes in the 1850s – most people's teeth had either fallen out or were so disgusting because there was no such thing as brushing your teeth!
We were lucky enough to see a demonstration at the Brown and Co. Confectionary Factory. We learnt that in the 1850s that not all lollies were vegetarian because crushed beetles were used to get the red colouring for the hard, red lollies. Orange lollies were coloured with rusty water, black lollies were coloured with squid ink or chimney soot. Some lollies were even coloured with arsenic! Usually children would only get one lolly a week if they were well behaved and did all of their chores and school work. $3.50 worth of lollies today would've cost $20 in 1850. The temperature needed to melt the ingredients for lolly-making together was very hot (160 degrees Celsius) so the lollies were still warm when we got to sample them at the end of the demonstration.
On Tuesday afternoon we arrived out the front of the Red Hill Underground Mine. Red Hill was a real mine where the 'Welcome Nugget' was found, but the area that we went into has been made safe for tours. It was really creepy at the start of the tour because a voice that tells you what to do and where to go listed all the ways that a miner might die in a mine back in the 1850s. We found out information about the many people who were injured or died during these dangerous times. In another part of the mine we saw a projection that showed a person finding the welcome nugget, and we found out that it was displayed in Ballarat and Melbourne before it was sent to Great Britain to be cut into three chunks and melted down. It weighed 69 kilograms. When you were walking underground, there was water leaking from the roof and puddles we had to walk through. The path was very dark and it was hard to see where you were going. We even had to duck our heads down a couple of times because the ceiling height kept changing. When we were down there, we could hear sounds of rocks falling and rumbling noises that really set the mood and on the whole the mine was very confusing and startling. When we first saw the natural light at the top of the stairs we felt relief that we were near the end of the tour!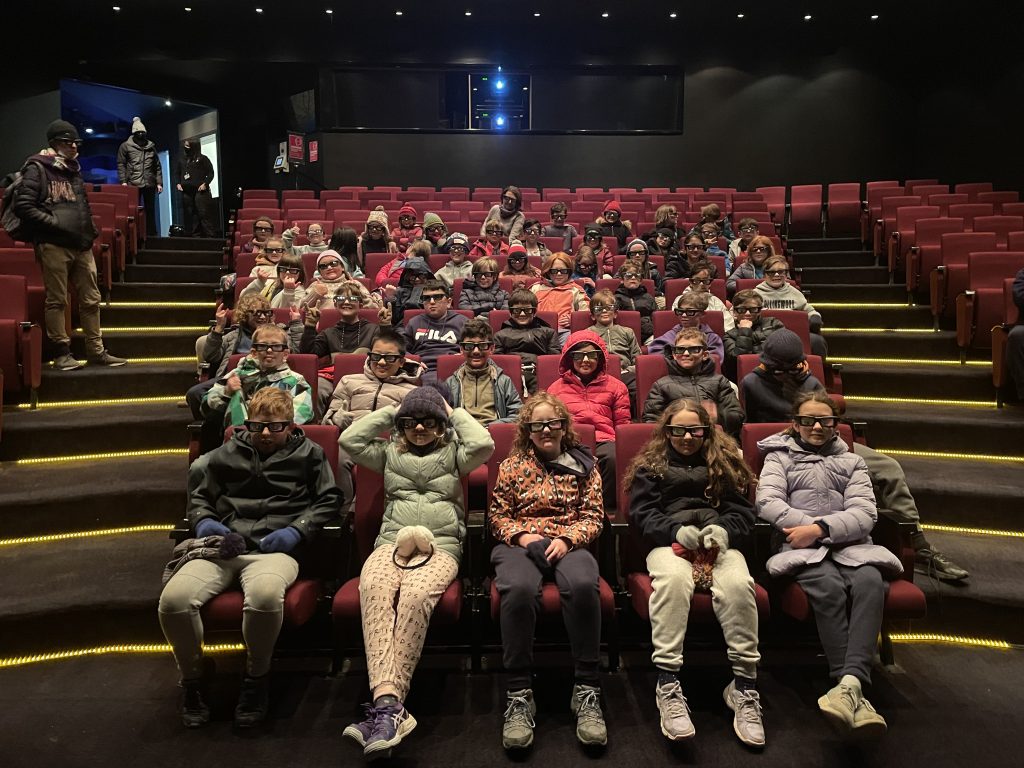 The AURA Sound and Light Show was a fantastic and informative experience that really brought to life the history of the Gold Rush and the Eureka Stockade. At the start we put on 3D glasses and went into a cinema to watch a short movie about how gold appeared in the universe and formed on Earth. Next, we travelled in a two carriage electric bus to another location, where we stood on an outdoor viewing platform and watched a projection about the Indigenous creation story of Bunjil. Then we went into small theatre and watched animation that told us about the start of European settlement and the gold rush times. While we were watching, the screen split apart to reveal a life like set of what we had seen on the screen. We felt the cold breeze from outside rush in because all of the set was actually built to scale in a bush setting. Projectors pointed onto moving tents that showed scenes from the 1850s, at one point a controlled fire exploded out in front of our seats and in the windows of a building, and fences popped up to symbolize the miners taking a stand during the Eureka Stockade. We learned what happened in the Gold Rush in Ballarat and it was an incredible experience!
At camp, we had cabin groups and activity groups. We got to take our luggage into our cabins as soon as we arrived and got off the bus. Most of the cabins looked very similar – except for one fancy cabin that had it's own ensuite! Our meals were very good – we had breakfast, morning tea, lunch, afternoon tea, and dinner. For breakfast and dinner we ate in the New York Bakery, which was quite fancy (but nothing like New York!), and for lunch we ate at the Charlie Napier Hotel, that had an old fashion bar and dining room area, as well as other sitting rooms and guest rooms throughout the hotel to explore.
We had a mix of delightful sunshine, a few clouds, and a bit of rain, and were happy that we all packed beanies, gloves, and warm clothes and jackets. Overall, it was an eye-opening and amazing experience for students, teachers, and the wonderful three parent volunteers that joined us for the three days.