Timelines of our Lives – Term 1 Week 8
In  Week 7 we started to explore the inquiry question 'What is a Story?'. Since the start of the term, students have been enjoying writing and telling stories as a way to share their unique strengths and interests with others and build connections across the neighbourhood. We began to look at the elements of story telling, such as setting, characters and plot as a way to develop our skills and understanding as authors. Students identified that through story telling, we can share our own stories with others, as well as learn more about the people around us. One part of this exploration was to develop a timeline of our lives – from when we were born to our age now – and consider the important experiences and moments  in our lives. Student identified that our lives are made up of many, many stories that can be shared. From these timelines, students were able to choose a significant memory to further investigate and develop.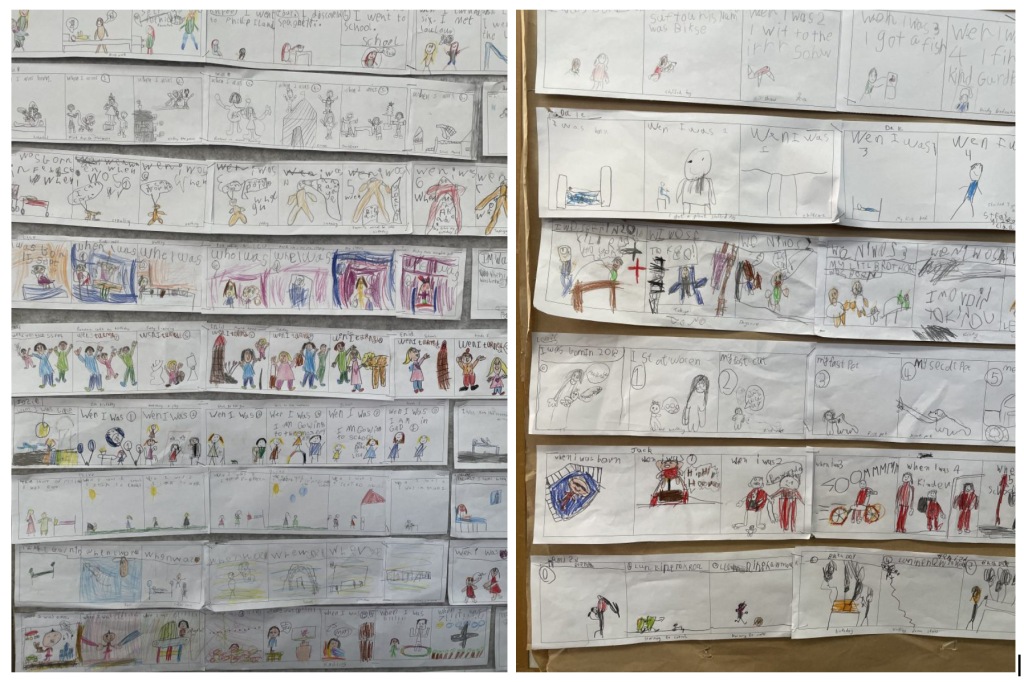 In Week 8, students began to develop their 'story' of this memory through drawing, painting, writing, construction or performance, considering the 'setting', 'characters' and what happened, or 'plot' for this moment in their lives. Students will be encouraged and have the opportunity to develop this project over a number of weeks up to the end of this term. Many students identified the birth of siblings, birthday celebrations, going somewhere or doing something for the first time as a memory that they would like to explore further through book making, drawing and painting, performance, music or construction. We are looking forward to seeing how these project develop over the next few weeks.

Next week we are also starting our 'Storytelling Incursions'. We would love for members of our community and families to share their own 'stories' with us and we would like to invite you to visit our neighbourhood to tell a story from your life to the students in Year 1/2 Neighbourhood 2.
This 'story' could come from a significant event or experience in your life, for example a special holiday, moving house or cities/countries, arriving somewhere new, starting/changing jobs, a memory with a special person or pet in your life, learning a new skill, something unusual or funny that has happened to you – the possibilities are endless! We expect that your story would be about 5-10 minutes long (you may want to think about 'setting', 'characters' and beginning, middle and end, or problem/resolution for the 'plot' of your story, and how the situation or experience made you feel), with then about 5 minutes of question time afterwards for the students. Please get in touch if you would like to share a story with us by emailing years12n2@phps.vic.edu.au so that we can include you in our 'Storytelling Schedule' for Weeks 9 and 10 of Term 1. Parent/family volunteers for our 'Storytelling Incursions' must have current WWC that has been sighted and recorded by admin at the front office.