Tennis Competition & Swimming Titles!
As we continue our skill development of hand and eye coordination through the code of tennis and bat-tennis, the students expressed they wanted a little home group competition! Therefore, through student agency, I worked with our health and wellbeing leaders in 56 to create a mini tennis round-robin! From setting up the tennis nets at lunch time for students to continue working on their skills to the students themselves writing up an 'Australian Open-inspired' competition schedule, a mini singles competition was held in each of the home groups this week (Year's 3-6). It was great to see the students experience the competition as we haven't had many of these opportunities over the past two years.
Oscar F – "I wasn't too confident with my tennis skills, but it was good to have a game as I haven't had a game against someone in a long time."
Max A – "I trained during every lunch break because tennis is my favourite sport. Although I missed the competition due to swimming, I enjoyed playing against my friends during the lunch time clubs."
Ivy-B V – "Whenever we had HPE, I made sure to bring my own tennis racquet as I also play tennis outside of school too. Playing against my friends was really fun as we don't usually get to compete!"
For the younger students, it was the same opportunity, although it was directed more towards building on their stroking skills than points-based. Here, I challenged them to stroke the tennis ball in a certain area as well as over the net. Those who could complete this skill made it onto the next challenging stage until an ultimate winner was announced!
Nina W – "I play tennis on the weekends so when we got the chance the play a tennis elimination game, I concentrated as much as I could to win!"
Sienna A-B – "I still can't believe I made it to the end of the round. Even though I didn't win, I'm still proud of myself because I don't usually play these games."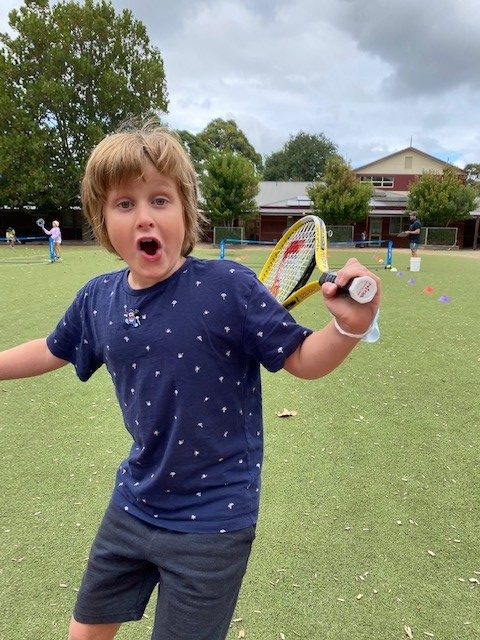 District, Division & Regional Swimming Competitions!
Last week, a number of our students made it to the Division Swimming Competition. They firstly had to finish in the top 2 of District and then the same for Division. After an incredible effort by all of them, I can confirm five of our strong and capable students made it to Regionals! A huge well done to Gabriel G-J (Year 6), Maggie Mcleod (Year 5), Ike Willis (Year 5), Banjo Richards (Year 5) and Thomas Johnson (Year 4). These five students will be representing our school on the 22nd March held at Watermarc in Greensborough. We wish them all the very best.
Thank you once again to the parents who gave a helping hand throughout the swimming season this term. The students not only have had success but had a wonderful time in the intensive swimming programs too.