Brrr, winter has arrived, but it is with warmth and optimism that we celebrate the meaning of Reconciliation Week, the joyous return of our evening Instrumental Music Concerts and our dream to launch our new school choir. We hope you were able to join with our community as we shared our understandings and dreams for Reconciliation in our Assembly this morning, and you are very welcome to enjoy our 7pm Instrumental Music concert tonight. With Term 2 rocketing along, my imagination has gone galactic as I plan for the Federation Bells/Percussion incursion next Term, and plans are underway to make our school choir with Emily Hayes a reality.
Across the Neighbourhoods we have continued our music sessions outside with singing and dancing. I love how the students are singing 'Dream Baby, Dream', our Reconciliation Assembly song, from the heart. It really feels like our voices are joining with the many voices, those of the past and of today, who have shared their stories, hopes and dreams through song. This powerful singing has opened our hearts and we feel a deepening of our understanding of Reconciliation. Thank you everyone, for your wonderful voices.
The Swedish Fjaskern Dance is keeping us nimble and warm. We have progressed from a simplified version of the dance to the original choreography. As the dance gradually gets faster, it's hard to keep our outbursts of excitement and enthusiasm from slowing us down. It reminds us that to be successful in this dance, as is the case with many performance activities, we have be our own 'watch-dog'. This can be tough. Staying on task and learning to self talk our way through challenges, so that we can achieve precise and successful outcomes, requires us to keep our emotions in check. Whether we are performing in Sports or in the Arts, this is a big factor in our development. It's fun to be fun, and fabulous to achieve a goal. We know we've 'nailed it' when it's fun and fabulous at the same time!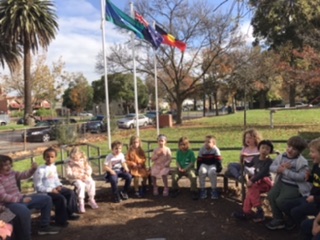 It is with much excitement that we prepare for our Instrumental Music Concert tonight. For many of our students, this will be their first experience of an evening Concert as this is our first since November 2019! The IM Concerts are special events as it's actually really exciting to come to school at night and experience the gym as a concert venue. Everyone is welcome to come and join us as we celebrate the instrumental learning of our budding musicians.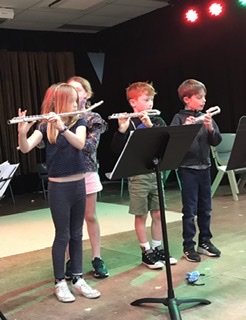 New School Choir
We are looking ahead to Term 3 and to exciting opportunities coming our way. Please keep an eye out for announcements about our new School Choir in Talking Point and Compass. The choir is open to students from Years 2-6 and provides an opportunity for committed students to learn singing and develop their musicianship. The choir will rehearse on Wednesday afternoons from 3:40 – 4:10pm at school. Emily Hayes is a singing and choir leader, and we have enjoyed the engaging music activities she has shared with us during the Well-being Festival in 2020. Emily and I have great dreams for this choir, so if you love music and love to sing, please get in touch. Expressions of interest are very welcome. Please contact Deb via email:
Deborah.Kayser@education.vic.gov.au
As ever, thanks everyone for a very happy two weeks of music together.
Stay safe, warm and well. All the best, Deb.